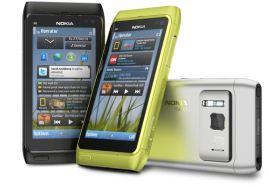 If you have ever thought that Nokia has gone into the shadows equipped with a host of smartphone talents then you are wrong, because Nokia unveils N8, one of the best Super phone in N-Series probably.
This is the first device to be powered by the brand new Symbian 3 platform, the Nokia N8 will launch with a new super breed of camera that promises to capture photos and video beyond your imagination.
The biggest plus in the Nokia N8 is its 12-megapixel camera with Carl Zeiss optics and Xenon flash.
It also features a substantially BIGGER sensor than any ever used in any other Nokia device – even bigger than many found in dedicated cameras.The N8 is also the first Nokia device to support HD Video recording And also allows you to edit them with a smart built-in editing suite on the device.
This super phone also supports Dolby Digital Plus surround sound and users can connect it to their home theatre system.There's also a HDMI connector allowing you to hook the smartphone to your HD TV and share your media with friends and family with a very high level of clarity.
The Nokia N8 also doubles as a portable entertainment centre, allowing you to watch HD quality video with Dolby Digital Plus surround sound and hook into a dedicated Web TV application for access to news and entertainment on the move.Nokia N8 also exceeds your imagination in the space constraints as it has 16GB of built-in storage and is expandable up to 48GB with a micro SD card.
Joining the social messaging Bandwagon fold with the likes of the latest Eseries and Cseries devices, N8 enters the fray with LIVE Twitter and Facebook updates direct to your homescreen. Comment, read and send messages, update your status and share your location and photos with just a touch.Embracing the likes of location based services, the N8 is very location-savvy and comes with FREE global Ovi Maps walk and drive navigation with support in more than 70 countries worldwide for LIFETIME.
Nokia N8 is carved from a single piece of anodised aluminium and looks glorious decked in one of five eye-catching colours, The N8 will be available in SELECT markets during the third quarter of 2010 and in India by Diwali. It is estimated to be priced at around the EUR 360 (Rs. 22,000) excluding taxes or subsidies in Countries other than India. Also, it would be outright foolishness to expect this phone to be priced below the 25k mark in India, that's something Nokia has learnt more from its brother companies like Apple :).