After so many speculations, LG finally unveiled its much-awaited flagship, the G5 at MWC 2016 in Barcelona. The device, as expected, comes with powerful specs and features such as dual rear cameras and a hardware expansion slot.
Thank you, LG for not using a 4K display!
The LG G5 comes packed in a fluid metal body and a 5.3-inch QHD "always on" display, which offers a pixel density of 554 ppi that in-turn makes it a bit smaller than the G4's 5.5-inch display panel. Before the launch, many of the leaks suggested that the LG G5 might feature a 4K display; but thankfully it doesn't as that would have taken a massive toll on its battery.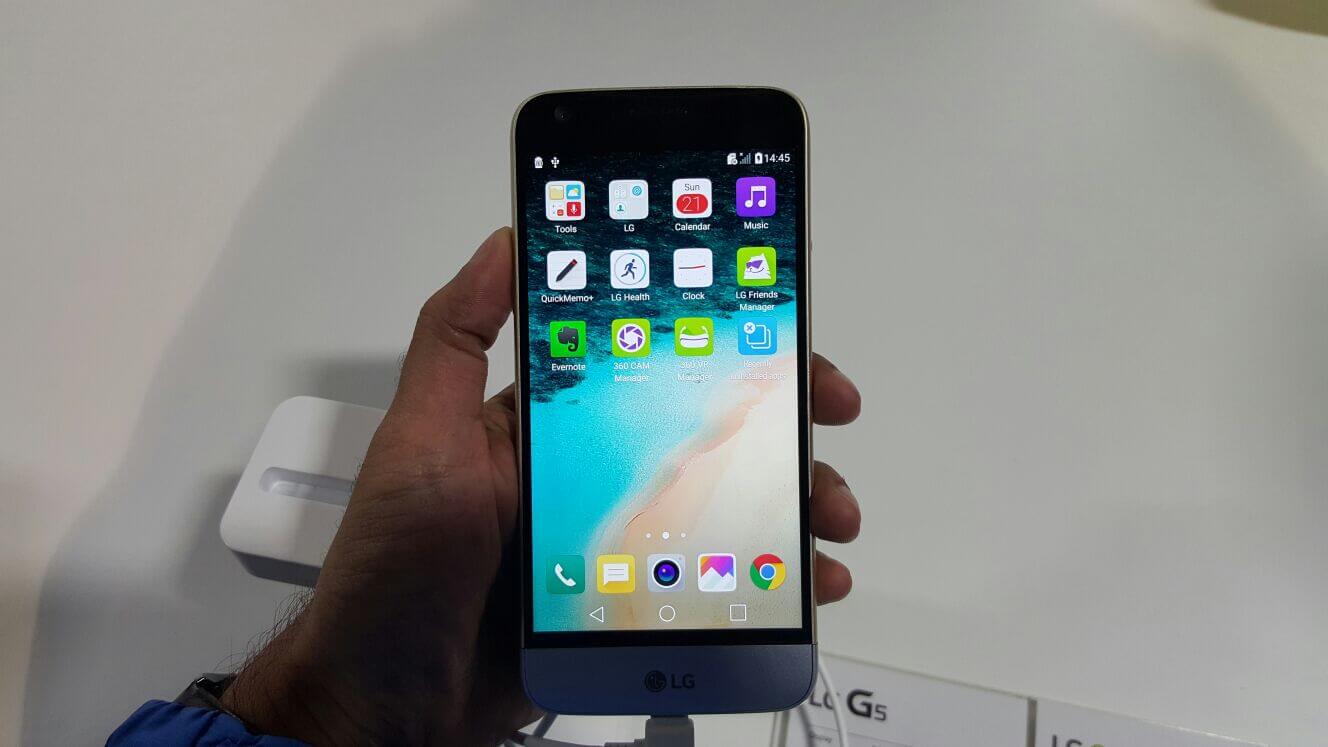 Talking about the display, LG said,"To minimise power consumption, we redesigned the display driver IC memory and power management function so that the display's backlight only illuminates one small part of the overall display. Thanks to this technology, the Always-on Display requires only 0.8 percent of the battery's full capacity per hour to operate. With consumers turning on their smartphones up to 150 times a day mostly to just check the time, the G5's Always-on Display will make a notable difference in the life of the battery over the course of the day."
Looking at the pictures, we did think that the device resembles Huawei Nexus 6P, hail its metal design. Do you agree?
Processor and Hardware
LG's latest flagship is powered by a Snapdragon 820, which is Qualcomm's newest chipset with 64-bit Kryo cores. Such powerful chip is paired with 4GB of RAM, which is expected to deliver a powerhouse performance.Talking about LG G5's camera, Qualcomm's Steve Mollenkopf, suggested that users will see a DSLR-like image quality and console-grade gaming on the G5.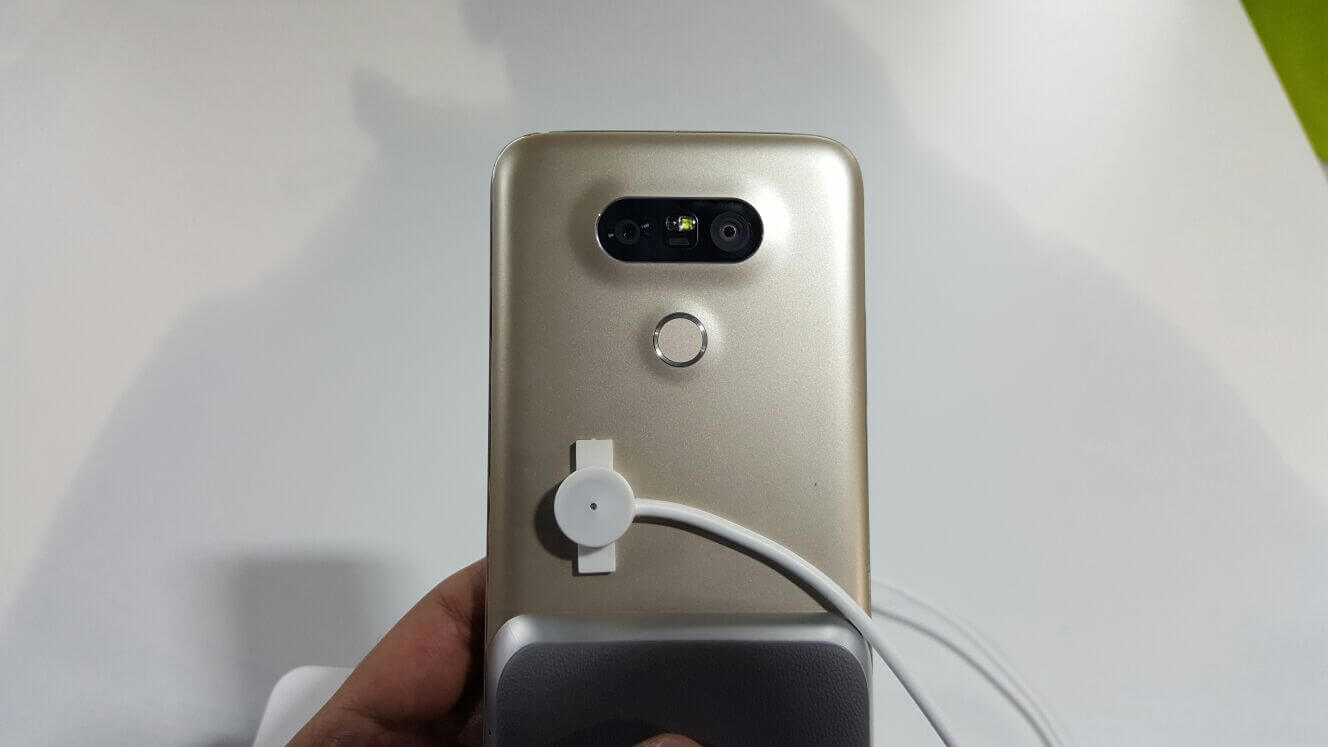 However, we do think that it might not be that cool overall as the "removable" battery that backs the device is just 2800mAh battery. Only saving grace that LG can use in its favour to cover up the small battery issue is that the G5 come with a bespoke, custom core, which takes the load off the main processor and that can pretty much save the battery life too. We are scratching our head that why didn't LG made a bigger battery? Why 2800mAh? It could have at least touched 3000mAh! Sigh.
The smartphone comes with 32GB internal storage, which is expandable up to 2TB via microSD card. It runs Android 6.0 Marshmallow and supports connectivity options such as 4G LTE, Wi-Fi 802.11 a/b/g/n/ac (dual-band), GPS, NFC, Bluetooth 4.2, Fingerprint sensor, and USB Type-C connector. The device measures 149.4 x 73.9 x 7.7~8.6mm; and weighs 159 grams.
Camera
Now, coming on to the photography department, the LG G5 comes with substantial improvements over its predecessor. It sports a features a dual primary camera. One camera comes with 75-degree Field of View (FoV) and a 16-megapixel sensor while the second camera comes with a wider 135-degree FoV and an 8-megapixel sensor. Interestingly, users will also be able to merge the images from both the main cameras and can also add a variety of effects to them with real-time preview. The device, obviously, comes with a selfie camera, which is of 8-megapixel.
Here is a camera sample, which is clicked by our Editor, Asif Iqbal Sheikh. He is right there at MWC, giving us all the info that we need!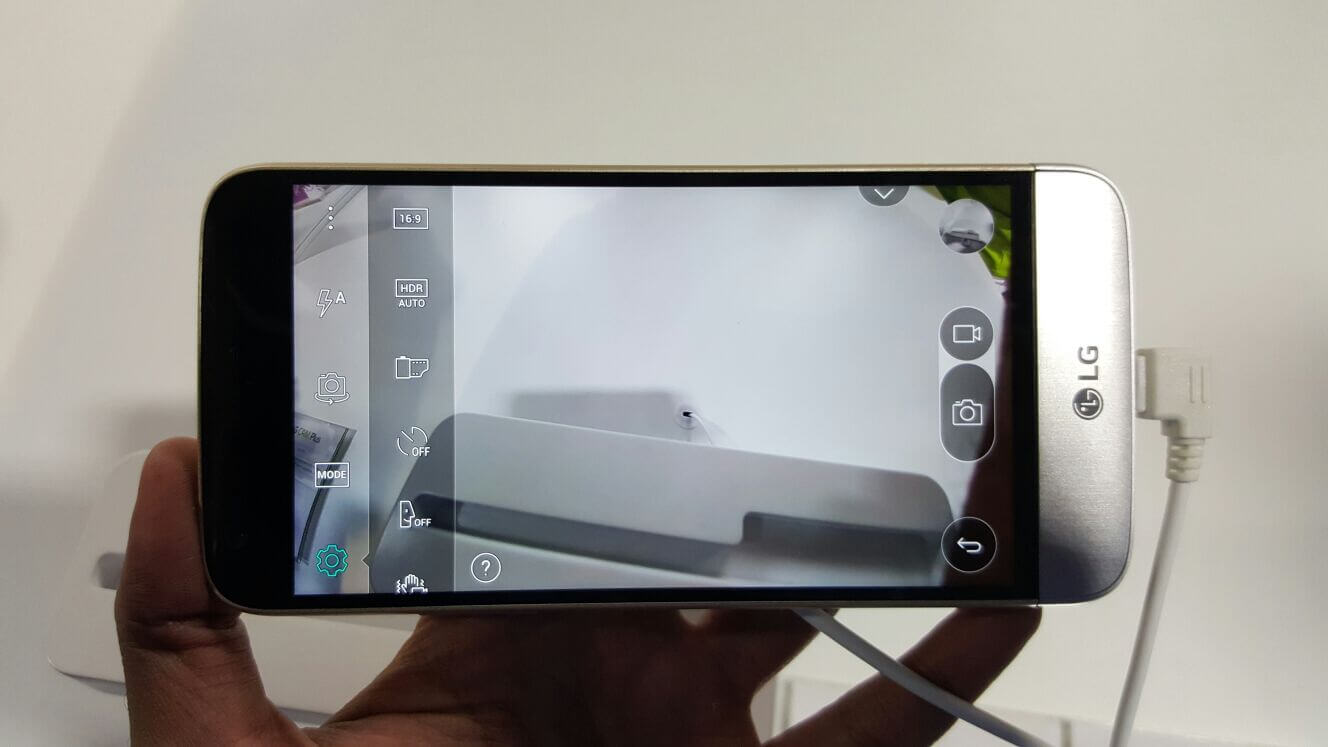 LG has also announced hardware expansion modules to enhance device functionality. These modules are — CAM Plus and Hi-Fi Plus with B&O Play. As revealed in the leaks, LG has also introduced a variety of companion devices named as "LG Friends". These devices can be transformed into a digital camera, Hi-Fi player and much more.
CAM Plus: Camera that is attached through battery slot for a comfortable grip and convenient control of a DSLR. Offers Autofocus, exposure lock, and provides physical buttons for power, shutter, record, and zoom. Packs additional battery capacity of 1,200mAh.
Hi-Fi Plus with B&O Play: Portable Hi-Fi audio player developed in collaboration with B&O Play supports 32-bit, 384KHz high-definition audio playback. Can be used with LG G5 or even as a separate Hi-Fi digital audio chip (DAC) that connects to any smartphone or PC.
LG 360 VR: VR goggle that can be connected with the G5 via a dedicated cable and works exclusively with the G5 to simulate a 130-inch TV viewed from two meters away. It has a stylish design that is foldable so that users can easily carry and watch VR content anytime, anywhere.
LG 360 CAM: Compact 360-degree angle camera equipped with two 13MP 200-degree wide angle cameras, 1,200mAh battery and 4GB internal memory, which can be supplemented by a microSD card. Provides 2K video and 5.1 surround channel recording on three microphones
LG Rolling Bot: Companion device that rolls like a ball while capturing images and videos with its embedded 8MP camera. Can be used as a monitoring system for the home, pet care companion as well as a remote controller for compatible home appliances.
H3 by B&O PLAY: Set of high-end earphones that is compatible with the high-quality sound of the LG Hi-Fi Plus with B&O PLAY.
LG Smart Controller: Allows users to easily control certain drones. Lets you check the video stream from the drone through the LG G5 in real time and control the unmanned aircraft with the LG Smart Controller joystick.
LG Friends Manager: Only available in the LG G5, it is the hub application that allows the G5 to connect with LG Friends with minimal fuss and effort. It automatically detects nearby LG Friends and connects quickly and easily in three simple steps, eliminating much of the hassle of pairing devices.
LG G5 Specifications at a glance:
5.3-inch "always-on" Quad HD display with a resolution of 2560×1440 pixels
64-bit Kryo cores Snapdragon 820 chipset paired with 4GB of RAM
32GB internal storage, expandable up to 2TB via microSD card
Android 6.0 Marshmallow
16MP and 8MP dual-primary camera and 8MP front-facing camera
Measures 149.4 x 73.9 x 7.7~8.6mm; and weighs 159 grams
4G LTE, WiFi 802.11 a/b/g/n/ac (dual-band), Bluetooth 4.2, GPS, NFC, USB Type-C, Fingerprint sensor
2800mAh (removable) battery clubbed with Qualcomm Quick Charge 3.0
The LG G5 will be available in Silver, Titan, Gold and Pink color options. It will be up for sale in April along with Friends companion devices. However, LG is still keeping mum on the pricing.
Stay tuned with us to get more action from MWC!