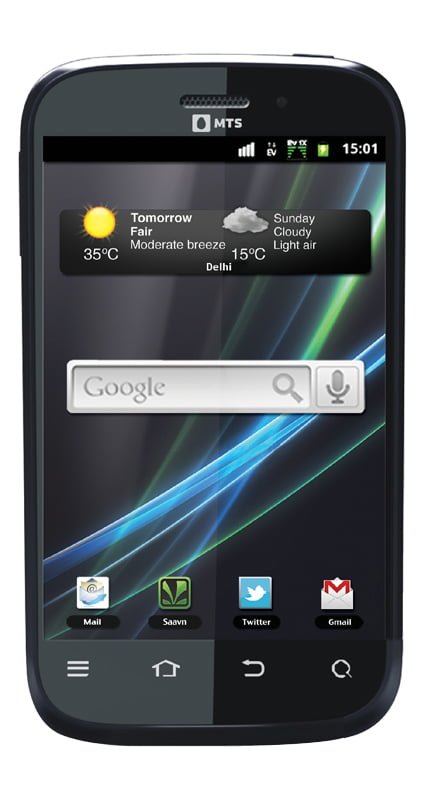 India's pure-play CDMA player MTS India has launched another CDMA & GSM dual SIM Android smartphone - Duet II for Rs 5199. MTS is pushing its CDMA+GSM dual SIM Android smartphones to capture data market from GSM customers. Earlier MTS had launched Duet smartphone with similar features.
Duet II is actually ZTE N855D and it comes with 4 inch display, 1GHz processor, 3.2 MP camera, 1650 mAh battery and usual connectivity options. The biggest disappointment of this device is it runs on Android 2.3 Gingerbread.
MTS is continuing to bring older Androids in Indian market and yet dreams to become leading data service provider with their smartphone offerings.
Specifications of MTS Duet II:
4'' TFT LCD display, 320x480p
1 GHz Qualcomm SnapDragon 7625A processor
256 MB RAM
120 MB built-in, 32GB via microSD
Android 2.3
3.2 MP Rear Camera, no front camera
CDMA (1x voice & data + EVDO rev A upto 3.1 Mbps; locked to MTS) + GSM (all networks)
WiFi 802.11 b/g/n, Bluetooth, GPS, microUSB 2.0, 3.5 mm audio jack
Motion and Gravity Sensor
1650 mAh battery
Box contents: • Handset • Charger • USB Cable • Battery • Headset • Quick Start Guide • Warranty Card
When you buy MTS Duet II smartphone you can avail 1GB HSD data & 1x unlimited data and unlimited local onnet minutes and 1000 minutes of local offnet calling per month for 2 months for Rs 599.
My Take:I must say these phones are blunders from MTS' data focused voice enabled strategy at a point when around 50% of Android devices run on Android 4.1 or 4.2 Jelly Bean. I simply do not understand why MTS is making deals with these OEM companies to bring older Android-run smartphones. Compared to Tata Docomo CDMA who tied up with HTC to bring affordable CDMA+GSM smartphones, MTS is dealing with Alcatel, ZTE and Huawei who are not big names in Indian market.
Also as MTS is trying to be the data operator for GSM customers there is no sense to offer voice minutes with FRC. 1GB UL does not suite also. The FRC is a not cheap deal, I must say. Reliance is offering 3GB data per month for 12 month with HTC Desire VC. People are ready to buy good smartphones at an affordable price. But it does not mean MTS can launch several piece of junks with dinosaur-version of Android.
At this point the old question comes back! Why does MTS not support imported RUIM slot-less unlocked CDMA smartphones via MEID registrations? There is no definite answer from them while Reliance and Tata both allow the same.