According to an analysis done by a data analysis company that goes by the name – Apteligent; Motorola is the fastest one to roll out the Marshmallow update to its phones in the US. The data says that Motorola started rolling out the OTA update in November, which was just after a month Google released the software version.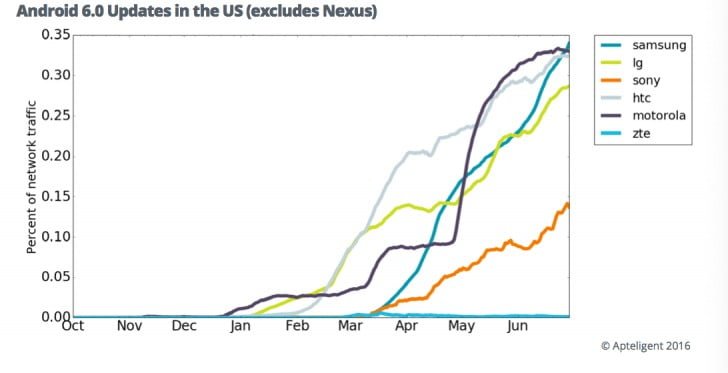 The next in line is LG, who started the update roll out in January. Following LG is HTC that pushed the update to its smartphones. For India, LG emerged as the fastest one to roll out the update to most of its handsets, faster than Motorola and HTC. It is noteworthy to mention that the analysis excludes the Nexus devices. Going by this report, we think that Samsung, Sony, and other manufacturers need to buckle up as users look forward to these updates. Samsung has often suffered a user backlash when it comes to rolling out updates.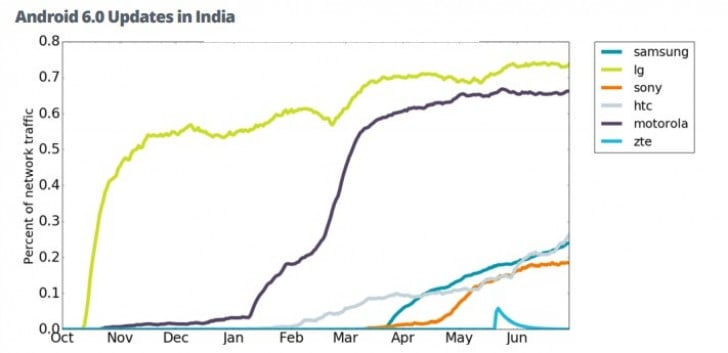 Key findings from the report include:

– Motorola pushes out Android updates faster than any other manufacturer
– For the largest apps, Sony devices have the lowest overall crash rate, with Motorola following
– Russia has the worst Android device fragmentation in the world: it takes 230 devices to reach the benchmark (90 percent of device usage).
– Based on the data collected in July 2016, Android purchases should either be the upcoming Nexus devices by HTC or a Motorola device this holiday season
Also, Apteligent analysed app crash rates and discovered that Sony has the lowest app crashes. The data states that Sony smartphones encountered an average crash rate of 0.08%, followed by Motorola with 0.09%. Out of the companies that Apteligent analysed, ZTE had the highest app crash rate of 0.28%.
During its analysis, Apteligent also estimated that Russia boasts the largest Android device users. In Russia, 230 unique devices are used by 90% of the population, while, in the US around 44% of the population use ten unique devices.