Reliance Jio has secretly increased the validity of its unlimited LYF-Jio preview offer to another six months, till 7 November 2016. Earlier the benefits were promised only till August 2016.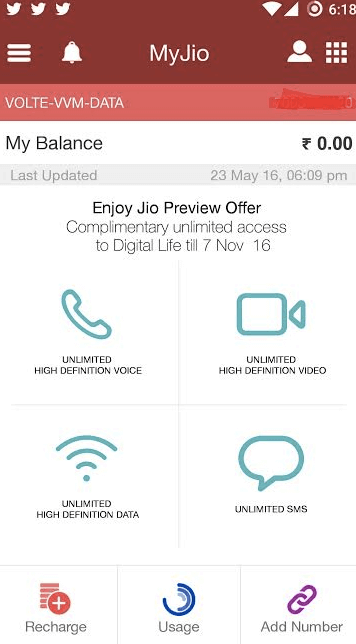 Reliance Jio started selling LYF smartphone with a huge preview offer at the beginning of the month. The scheme, available only via an invite from employees of Reliance industries and Reliance Jio having Jio SIM, entitled the user to unlimited 4G data, voice, SMS and app usage for 90 days from the date of purchase of the LYF smartphone.
As there is no official intimation from the company about the matter, it's unclear of its intention behind the extension of validity. However, speculations roll out saying that it hints the launch of Reliance Jio in December 2016.
Reliance's self-care app too has started displaying the extended validity. However, the executives at the customer care and retail showrooms seem to be unaware of this development. "As many customers are enquiring to our sales team about what will happen to their Jio number after 90 days and many aren't taking the plan as there are currently no options in market to recharge Jio number, so Jio has decided to upgrade the offer for another 3 months by which we will launch our services", explained an unnamed executive to TelecomTalk.
The extended validity also seems to make a significant impact on the sales of LYF smartphone. In the recent mobile shipment data for Q1 2016 released by IDC, it was seen that Reliance LYF smartphone replaced Lava as the 5th largest smartphone vendor in the quarter. The report also predicted a fast growth rate for LYF smartphone due to its service offerings.
To add to the LYF-Jio preview offer, it is worth to note that the unlimited benefit will not be available to the users, if the user tries to use it on a different handset other than LYF device.
Note: Looks like it was a system glitch as per customer care they are saying "that the unlimited preview offers validity is up to 90 days from the start date of your service".