Reliance Jio is preparing to soft launch its commercial 4G services in key metro cities, in the coming few days, multiple sources close to the development told TelecomTalk. The telco has already started shipping 4G SIM cards and Mi-Fi devices to Reliance Digital stores across metro cities.
However, sources said that these SIM cards and Mi-Fi devices will be limited to few users as a part of beta extension process, which the company started by launching 4G services for Reliance group employees in December last year. Reliance Digital's staffs will e-verify CAF (customer acquisition form) by scanning the details after which the SIM would be activated soon.
Reliance Digital stores have already started selling LYF-branded smartphones across a wide price range. Customers buying LYF smartphones before 1st April will get the sim card on 1st April while those buying on or after 1st April will get it at the time of purchase of the handset, a store executive in Mumbai told TT.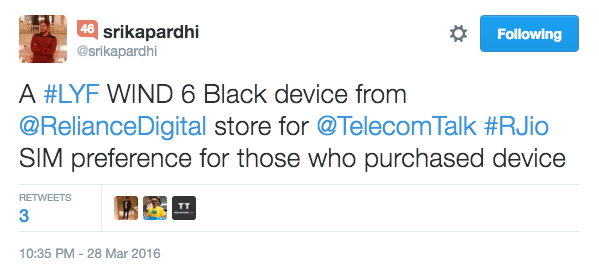 The bundled sim will come preloaded with data and voice benefits. It's important to note that Jio hasn't come up with any specific plan for its retail customers opting for a standalone SIM card upon availability, and the telco Will offer new SIMs only with its own branded LYF 4G handsets initially. Those planning on porting their existing number to Jio network will have to wait slightly longer.
Reliance Jio did not respond to our email query on the soft launch.
Ahead of this soft launch, Jio has also added support to pay or recharge Jio numbers through Jio Money or through the operator's m-payment app. Under the new 'Jio Payments' section in Jio Money, one can easily recharge his Jio numbers by choosing multiple services, including voice or VoLTE services, WiFi, MiFi, Fiber, and Digital contents, which includes services such as Video on Demand and music streaming.
As of now, Jio hasn't updated prices of those products but the new payment section would be beneficial to current Jio users to extend their validity as all beta testers have validity till March 31 who got the devices and SIM during December launch.
Jio 4G Plan details Pricing: VoLTE (voice), data and SMS services
Sources also said that Jio Mi-Fi or Reliance Jio Mi-Fi devices would be available from Digital stores at a cheap rate of Rs 700- Rs 800. These Mi-Fi devices would come with 40 GB data for 3 months and post the data usage one can top up the Mi-Fi device with 40GB -200 GB packs which would be valid for another 90 days.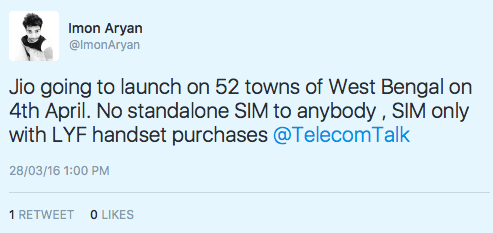 Jio has another plan for Mi-Fi devices, which is based upon the device pricing, which means the telco will charge data prices as per devices' connection with the hotspot. As of now, Jio Payment is showing charges for this unlimited calling at only Rs 30-35 which is much cheaper than other operators. However we aren't sure if this Unlimited calling is limited to Jio numbers or available to other networks also.
The company would also launch F&F plans to connect friends & family. F&F basic plan is priced at Rs 37, while F&F gold is available at Rs 38. Other SMS, local voice and STD packs would come as Large, Medium and Small packs, based on validity period which Jio hasn't revealed yet.
Additionally, Jio will come out with data add-on packs based, which would help users buy data with validity and without validity. The company would also offer Wi-Fi add-on packs to boost data balance in selective hotspots. Jio will also launch time-based Wi-Fi packs to cater to customer needs. However, it hasn't shared the pricing yet. The telecom operator can offer full talk-time to all top up recharges made through their Jio Money app, sources said.