Country's third largest telecom operator Idea Cellular today announced the commercial launch of 3G services Delhi, with a brand campaign DelhiNahiRukegi that has been built around 900 MHz network comprising 2,500 3G cell sites.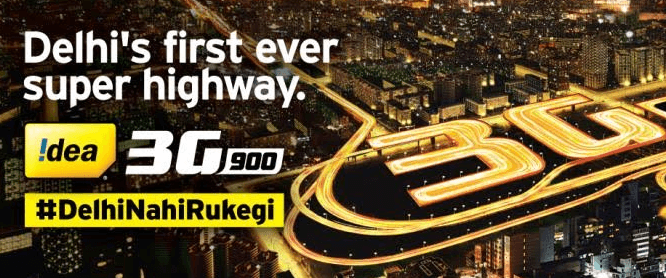 The company has built the data network of 2,500 3G cell sites and 5,000 2G cell sites.
Ambrish Jain, Deputy Managing Director, Idea Cellular, said, "Over the last two years, Idea has invested heavily in acquiring spectrum in the most efficient 900 MHz band and setting up a future-ready, modernized network to cater to the growing demand of mobile users in the region."
The marketing campaign DelhiNahiRukegi, which began with a teaser released on November 28, 2015, will be revealed across all media starting December 5, 2015.
Sashi Shankar, Chief Marketing Officer, Idea Cellular, said, "We created the DelhiNahiRukegi campaign using a metaphor where we are showing a virtual superhighway with our 3G 900. This is also the main creative for this entire campaign. The upcoming creative will highlight the plight of Delhiites in various situations, and will suggest a simple solution in the unique Idea way!"
Idea has over six million subscribers in Delhi with about 30% being data users. The company is also in the process of expanding its network of service centres in the Delhi NCR region to service customers.
With the launch in Delhi and the impending launch in Kolkata metro, Idea will now have its own 3G network in 13 circles which contribute to nearly 80% of the company's revenue and 60% of industry revenue.