Lately, BSNL is back in green, thanks to the determination of the current telecom minister R.S. Prasad, efforts of the BSNL leadership and staff. At the same time, with TRAI's nod for MVNOs in India, we may see a spurt in MVNOs across the country. We believe the best partner for any MVNO in the country would be BSNL.
BSNL's PAN India network infrastructure is largely underutilized, thanks to
The lack of proper marketing - BSNL has one of the most competitive mobile tariffs but they aren't marketed well. Ads on media are generalistic plus lack for franchisees mean the tariffs reach less audience.
Average customer service - Though BSNL's customer service has improved over the years, a lot more needs to be done. For instance, the social support on twitter asks a customer for everything from name to address to the phone number (can't they get those details by checking the number in CRM system?) and later redirect the query to local offices. The local offices are expected to contact the customer and solve the problem. As a result, the actual resolution takes days. Unlike private operators, BSNL never checks with / updates the complaint status on twitter to the customer. The customer care is ineffective, is also evident from the fact that most tweeters mention @rsprasad, the telecom minister to make their grievance heard.
No free availability of BSNL SIM Cards - While a private operator's SIM Card can be obtained from a street corner shop in a town or a village, one has to visit a BSNL Customer Service Center or a large franchise for SIM Cards. Sometimes, one is faced with poor support there.
The Win-Win Game
While it is important for BSNL to recognize the importance of how an MVNO partner can help it grow, BSNL must also be careful in selecting MVNO partner(s). Since these partnerships tend to be long term and several CapEx intensive responsibilities like the network maintenance and expansion would rest on the owner i.e., BSNL, it is important not to forget those. Otherwise, a situation might arise where the MVNO would be more powerful than BSNL.
One of the significant revenue opportunities for an MVNO on BSNL network would be data revenues. While BSNL offers competitive tariffs on the data segment, the network optimization is relatively poor. People are often seen complaining about poor internet speeds and 2G connectivity. The MVNO can pitch in here, help BSNL improve the network and also offer competitive plans to users. When I say competitive plans, FreedomPop from the U.S. market comes to my mind. FreedomPop offers something revolutionary, all basic services are completely free of charge. Many cost-conscious Indian users might jump with excitement at the highlighted section -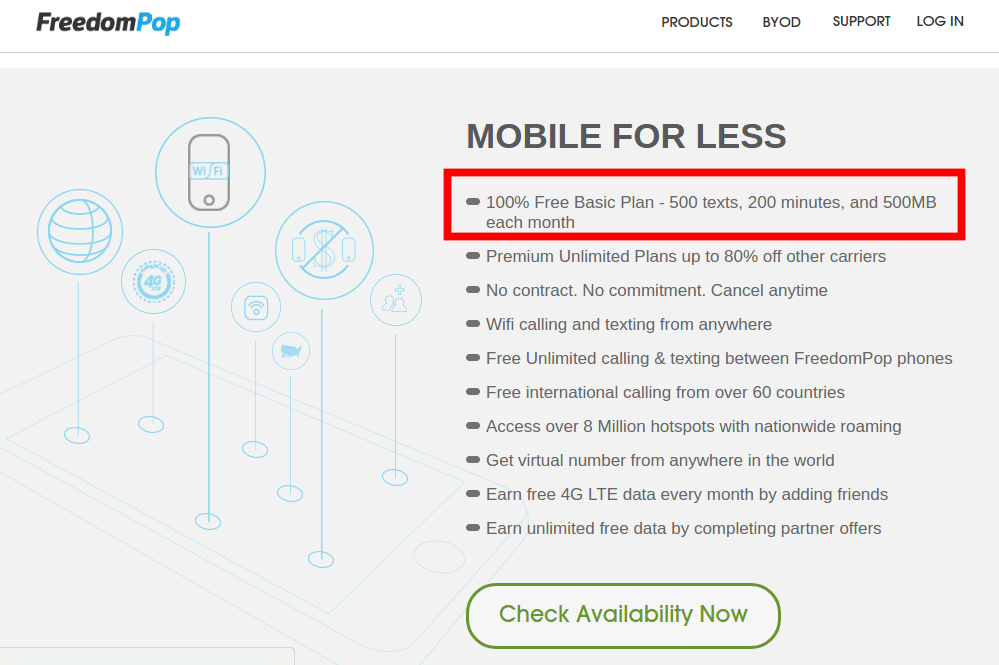 FreedomPop is said to be providing free (regardless of usage) WhatsApp plan in Spain where 90 percent of the messaging communication happens over the app. In a recent interview with Mobile World Live, FreedomPop CEO also argued that this free WhatsApp is very different from Facebook's internet.org.
MWL: Internet.org's problems in places like India have been well documented. Is this strategy, therefore a risk?

Stephen Stokols: We have a slightly different approach. Some of the issues Facebook has experienced is because they are giving preferential treatment to certain services. For us, it's a proposition. We are saying you can have this free WhatsApp plan. It's slightly different than going to a carrier and asking them to offer Facebook, and nothing else for free, then paying for that behind closed doors.
Shall we hope for MVNOs like FreedomPop to partner with BSNL and give the best of both worlds to Indian consumers - Unmatched network coverage coupled with great services and customer care?
Let us know your thoughts via comments or through twitter by mentioning @gischethans.