Apart from recharges, bill payments and grievances, the most important objective of a Customer Service Center is to make sure of the availability of SIM cards as it is the basic expectation of a customer from a service center. It is also the minimum responsibility of an operator to ensure the availability of SIM cards at their service centers.
However, it looks like BSNL is not interested in welcoming new customers with ease by providing new/replacement/multi-purpose SIM cards to users. You should continue reading this article to know about experiences and hurdles that we faced in acquiring BSNL's nano SIM card at few BSNL service centers that we visited.
Experience at Customer Service Center 1 : Mangalagiri BSNL Office (AP Circle)
To be frank, this is the service center that always left me with bad experiences ever since 2008. I had to visit the center to get a nano SIM card. As soon as one of the employees noticed me entering the center, his expressions turned pale with an indication that made me feel bad for being a BSNL customer. This also hinted me in advance of the bad news that I was about to listen.
Before I asked for a SIM, the esteemed BSNL employee shook his head to say no to every question.
Q1. Are nano SIM cards available?
A: No (with only a gesture)
Q2: I want a new SIM.
A: No (Nodded with a gesture)
Q3. Any type of SIM card is available?
A: No SIM cards are available at all. (This time employee was frustrated and to send me away he answered me that way).
This is not my first experience with the unavailability of SIM cards at this center. I can say that almost every time (may be due to heavy demand or lack of supply or care in maintaining them). I felt "oh! this BSNL CSC hasn't improved even in 2015" and left the place immediately. I then decided to check my luck at another BSNL CSC which is 8 kms away and I moved on...
Experience at Customer Service Center 2 : Kaleswarao Market Road BSNL (AP Circle)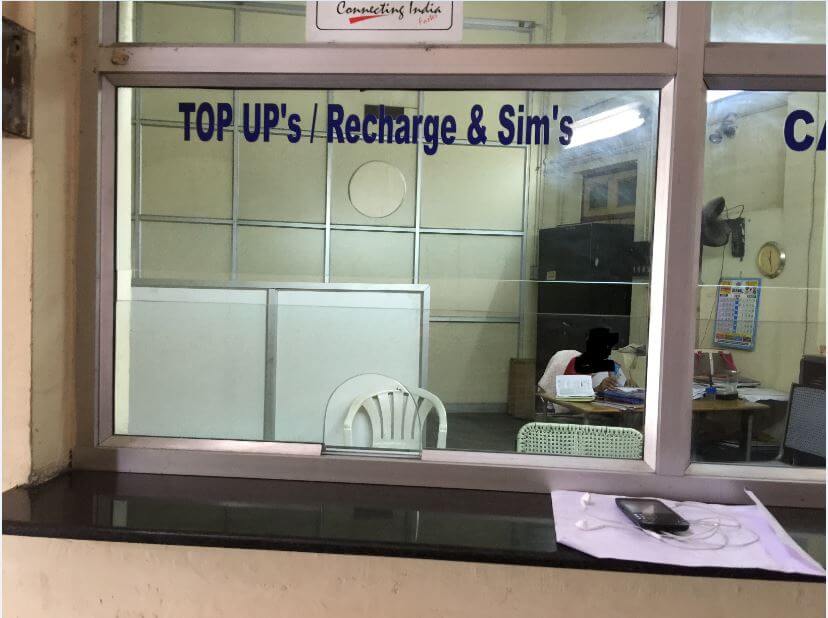 I remember that this CSC is quite near to the bus as well as the railway station and it's almost in the middle of city. I mentioned the location so that the service provided in the mid of city can be understood. Well, the image speaks well for itself. I was in fact looking for someone who could assist me or at least give a glance at me. I stood there for 10 minutes.
The employee who is responsible for attending the SIM card section was not available and other people sitting in the room were least bothered to even check what a customer wants. After some time, one employee called me near him treating me like a beggar and asked me what I want? I replied "I need a nano SIM card". The BSNL employee replied saying, "No SIM cards are available".
After few seconds, he responded again "If you recharge with Rs. 1000, I can give you a SIM card otherwise no SIM cards are available." I was shocked, felt ashamed and left the place with a feeling of BSNL.
Experience at Customer Service Center 3 : Secunderabad Patny Center BSNL Office (Telangana , AP Circle)

Knowing that this is BSNL's main service center, I expected a positive experience here. Straight to the point, not sure if it was lunch time, I waited for around 20 minutes for the in charge person handling the SIM card section. The employee comes back from break to attending desk, then I filled up the SIM Replacement form followed by Photo ID, photo copies of required documents and I paid around Rs. 110-120 (don't remember precisely, tendered some change). Surprisingly, I got the SIM card and it was activated in less than 30 minutes. I finally felt thankful for the service at at least one CSC.
I have just one question to BSNL :
Does a customer need to undergo such suffering to procure just a SIM card from BSNL?
Our Thoughts:
Why doesn't BSNL provide all variants of SIM cards at all its customer service centers and make them available all the time to avoid such customer sufferings? They maintain and operate in very large buildings but they are unable to maintain SIM cards serving basic requirement in operating across places? Why don't they make themselves available with the least possible effort to customers? Relationship centers of private operators are available across multiple locations and procuring a SIM card is as very easy but since BSNL CSC's are available at only few places, request BSNL authorities to ensure all time availability of SIM cards so that any customer who comes all the way to their centers will never be disappointed and leave the CSC with a smile :)
This was my personal experience and it may not be same with everyone or across all CSC's. I seriously hope that BSNL tries to improve experience at its customer service centres to serve the nation better.
DISCLAIMER : Views expressed above are the author's own.