Gionee, the Chinese smartphone brand famous for its slim smartphones, has also been constantly releasing Android smartphones with giant batteries in the M series. Gionee M2 with a 4,200 mAh battery and Gionee Marathon M3 with a 5,000 mAh battery are one of best-selling smartphones for the company. Both the devices even support reverse charging that can be used to charge other devices using the phone's battery. Now, the company plans to outdo themselves by launching their successor.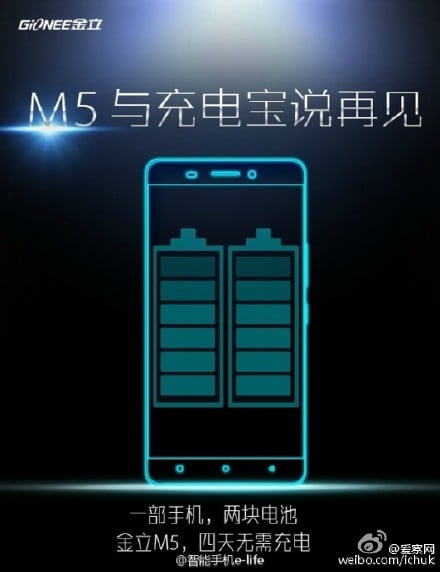 Gionee has announced that the M5 will come with a modular design for batteries – it will have two batteries totalling a capacity of 6,000 mAh – so that you can take out one battery and charge it, while the device runs on the second one. Pretty cool for heavy users, isn't it? With both the batteries fully charged, the company is promising 4-day battery life, but we think that it is all aharketing talk, but you can definitely expect 2 days of heavy usage with the device.
Other than the battery, the device, which recently passed TENAA certification, will feature a 5.5-inch 720p AMOLED display, 1.3 GHz quad-core processor, 2GB RAM, 16GB internal storage, a microSD card slot, 8-megapixel primary camera, 5-megapixel front-facing camera, and Android 5.1 Lollipop operating system. Looks like a great device for people who want long battery life from their smartphone, and then there are things like dual batteries, reverse charging, and Android 5.1 to boot.
It will be interesting to see how Gionee prices this device once it launches in India, but we think that it will be priced under Rs. 10,000 mark, similar to its predecessors.