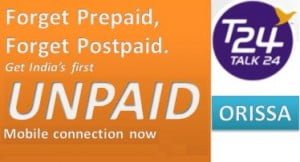 T24 Mobile today announced the launch of  its GSM Services in Orissa telecom circle which is also popularly known as India's first UNPAID Mobile Service which aims to benefit the shopaholic people by giving them the benefit of FREE talk time on their shopping for FREE.
Orissa, becomes the fourth circle to witness the T24 Mobile Services after it was first rolled in Andhra Pradesh, Kolkata and West Bengal in June 2010, followed by in Kolkata & West Bengal in early September 2010.
"T24 has received tremendous response in Andhra Pradesh and West Bengal since its launch. Shopping and talking on our mobile phones are among the two favorite activities for all of us in India. With T24, we have been able to develop a unique customer value proposition that combines these interests of the aspirational Indian. Customers will get shopping benefits for talking, and talk-time benefits each time they shop," said Mr Mayur Toshniwal, Chief Executive Officer of T24. "We believe that with our partners, Tata Teleservices Limited, we have been able to develop a differentiated offering in the crowded telecom space and increase the loyalty we enjoy among the millions of customers who patronize our stores," he added.
"This is a unique marketing alliance between a retailer and a telecom operator in India, and offers us direct access to millions of Future Group customers through its widespread retail presence across India," Mr Sandeep Singal, National Head, Sales & Distribution, Tata DOCOMO, said. "T24 stands for Talk 24, and was a natural choice of brand-name for us in this unique partnership, one that will provide customers with a dual advantage all 24 hours of the day—'Shop More, Talk More' and 'Talk More, Shop More'. The T24 mobile telephony service is yet another compelling offering from the House of Tatas, in keeping with Tata Teleservices Limited's stated objective of constantly innovating to redefine the telecom experience in the country," he added.
For More details on tariff details, you can call customer care at 72052 52121 or alternatively for all detailed tariff offers, you can also refer to, http://www.t24mobile.com/tariff_orissa.html