Vodafone, the largest (and oldest) mobile operator in the Kolkata and West Bengal circle, had announced the launch of its next-generation 4G LTE mobile services in Kolkata in a gala event held at the Oberoi Grand. Coincidentally, the Oberoi Grand is one of the oldest 5-star hotels in Kolkata metro.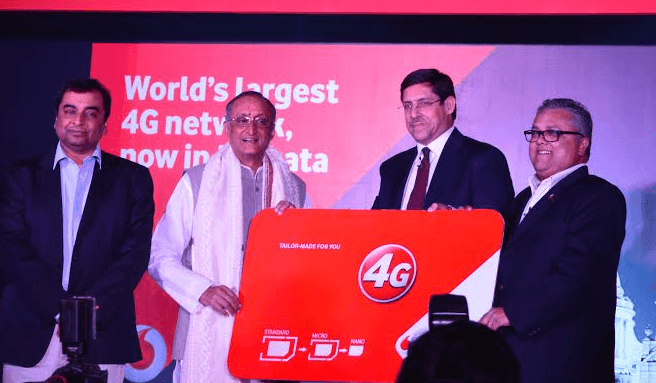 The event was conducted in the presence of Dr. Amit Mitra, West Bengal's Minister of Finance & Commerce, on January 25, 2016. The rollout of Vodafone's 4G services follows successful launches in Kerala and Karnataka. It took nearly 4 years for a second 4G operator to enter Kolkata.
Announcing the launch of Vodafone's 4G services in Kolkata, Naveen Chopra, COO, Vodafone India said:
"We are delighted to launch our high-speed 4G services in Kolkata for our customers to experience the most advanced wireless broadband experience available across the globe today. 4G has the potential to revolutionize the mobile experience through powerful innovation that impacts how we work and live. Vodafone's global expertise and experience of launching 4G across 20 countries gives us a better understanding of this technology and the needs of the 4G customer.
Initial response from customers who have experienced our 4G services in Kerala and Karnataka has been positive and encouraging. As a steadfast partner of Digital India, we remain focused on deploying multiple technologies-be it 2G, 3G and now 4G-for optimum use as each technology has its own vital role to play in servicing the myriad connectivity needs of consumers across the country."
At present, Vodafone's 4G services are present in prominent business and residential corridors of Kolkata including BBD Bag, Park Street, Alipore, Ballygunge, Salt Lake Sector V, Airport, and EM Bypass. The rollout will be completed across all parts of Kolkata by the end of June this year in a phased manner. Commercial availability of Vodafone 4G SIM cards will start from January 26 at most retail stores in Kolkata.
Kolkata was the first city of the country to see the beginning of mobile services (2G) in 1995 and also the first city to get 4G connectivity in 2012 (by Airtel). For Vodafone 4G, Kolkata is the first metro too, and the company will rollout 4G LTE services in Delhi, Mumbai, and Bengaluru by March, 2016.
Vodafone 4G in Kolkata:
Backed by strong fiber backhaul which is reflected by 3G customers as well.
Vodafone is partnered with Nokia for equipment and technical aspects. (Vodafone's 2G and 3G vendor is Nokia in RoWB circle, while Ericsson supplies for Kolkata's 2G equipments)
Built on 1800MHz spectrum, Vodafone's 4G utilises LTE-FDD technology (LTE1800) which is most-deployed LTE ecosystem globally.
With LTE1800, Vodafone 4G will have a better reach and improved indoor coverage than LTE-TDD deployed on 2300MHz (by Airtel and Reliance Jio).
Free 4G SIM upgrade to all Vodafone customers. Instant SIM card swap is available at all Vodafone stores and select retail stores. Vodafone subscribers can also check if their SIM card/phone is 4G-compatible by sending an SMS <4GSIM to 199>. You can request for 4G SIM card by calling the call centre or sending an SMS <4GSIM to 199>. Postpaid customers can enjoy same day doorstep delivery of postpaid 4G SIM cards (for requests received before 3:00 PM that day)
Contents: Watch your favourite movies with free unlimited movie subscription – access to 7500+ titles (including Bengali movies) for 3 months. Listen to latest songs with free unlimited music streaming on Vodafone Music.
Data offer: There will be 100 percent extra data for all 4G Red customers for 3 months and also 100 percent extra data for 1GB 4G recharges – for 1 month for regular customers. Array of data packs ranging from 150MB at Rs. 42 to a bonanza pack of 25GB at Rs. 2,049.
4G Mobile Wi-Fi – the 4G MiFi device will be launched very soon and can be used to connect upto 10 devices to Vodafone's 4G network over Wi-Fi.
International Roaming: Country's first operator to offer 4G international roaming – available in UK, Germany, Romania, Spain and Netherlands. (Vodafone has 4G network in 19 countries across the globe, so more countries will be added in roaming list eventually)
Voice for Vodafone 4G customers will be routed via 2G or 3G networks. There is no VoLTE from Vodafone as of now.
Speed test of Vodafone 4G
During the event, Vodafone officials clearly mentioned that in real-life scenario, Internet speed will be between 10-30Mbps. When we checked, near-to-zero-traffic network downlink was 98Mbps, but joy stayed for few minutes, the real-time download speed was around 16Mbps.