At the Computex 2017 event in Taipei, ARM, the SoftBank-owned company who designs a chipset architecture has announced the Cortex A75 and Cortex A55 CPUs along with an upgraded Mali-G72 GPU. For the uninitiated, the ARM cores are used to build the Qualcomm's Snapdragon SoC's, Samsung's Exynos chipsets, and even Apple's A chipset lineup.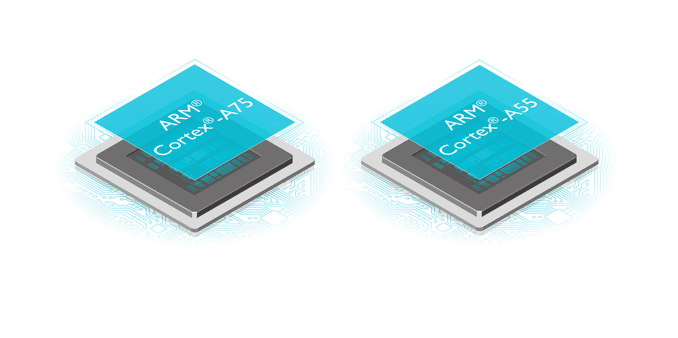 ARM says that the newly announced CPU's are powerful than the previous Cortex A73 and Cortex A53 chips. While the Cortex A75 is used in high-end phones, the Cortex A55 is touted to have the highest power efficiency in any mid-range chipset. The Mali-G72 GPU is said to have 25 percent performance improvement compared to the Mali-G71.
Besides the regular power and efficiency improvements, the highlight of both the CPUs is that they are designed to make up the artificial intelligence and machine learning technologies. The Cortex A75 and Cortex A55 chips are the first Dynamiq CPUs from the company. If you're wondering what Dynamiq CPU is- here's the answer: The Dynamiq branding is chosen to describe a flexible set of design options for chip makers such as the Qualcomm.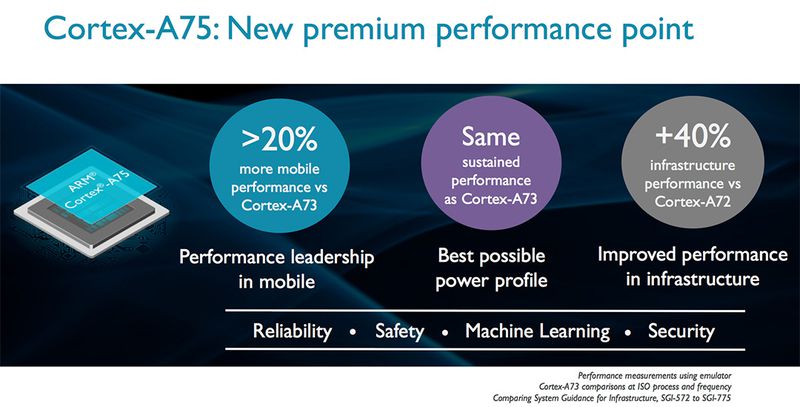 With the help of Dynamiq technology, chip makers such as Qualcomm will get the access to arrange the cores in a flexible manner. Furthermore, it allows the manufacturers to embed eight cores into a single cluster which will deliver better performance.
ARM explains this as follows- A seven Cortex A55 cores and one big-clustered A75 core. This, in turn, will boost the overall performance, battery life, and becomes cost efficient as well. ARM says "50x improvement in AI performance over the next three to five years thanks to better architecture, micro-architecture, and software optimisations."
The Dynamiq technology also includes a new memory alignment and caching process. The new Cortex A75 CPU will deliver 22 percent better performance than the Cortex A73. And the Cortex A55 will show up 15 to 30 percent better performance and 15 percent better power efficiency. That said, the new chips are configured in 3000 different ways, which is one of the USP of both the CPUs.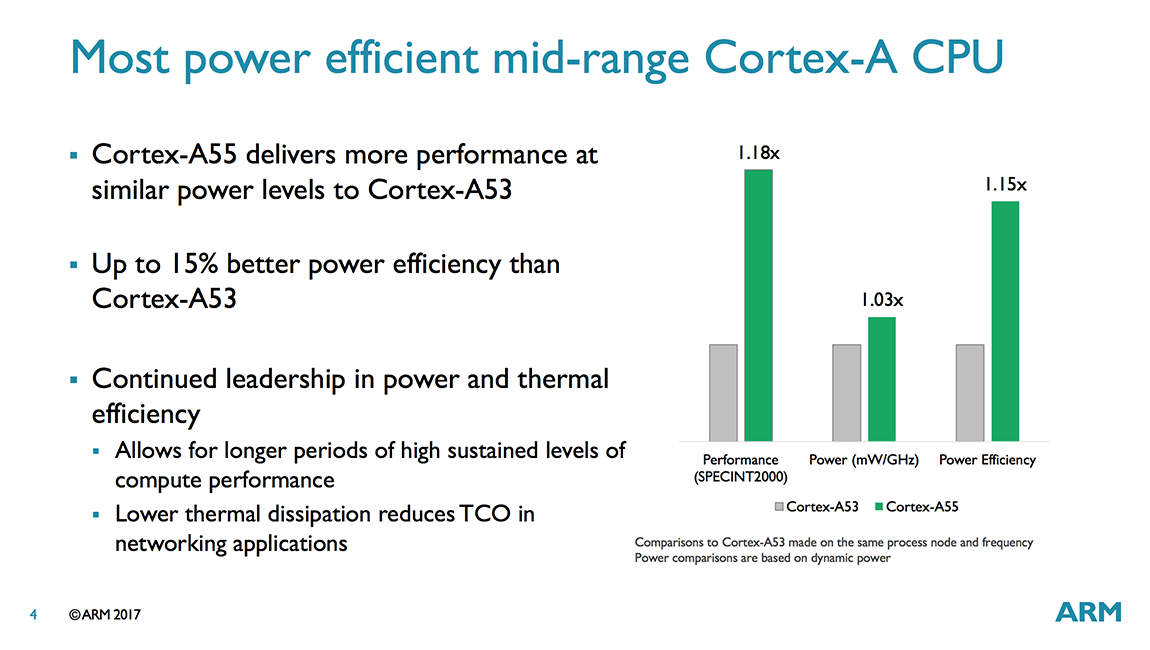 Coming to the Mali-G72 GPU, it has 25 percent higher power efficiency and 20 percent better performance. The new GPU is the company's push into the machine learning technology. ARM says that new GPU have 17 percent better benchmark scores than the G71 in the machine learning segment.
ARM has already issued the designs of both the Cortex A55 and Cortex A75 CPUs, and it will be a matter of time the chip makers will implement the new CPUs to build their SoC's. It is also rumoured that the high-end Snapdragon 835 SoC will be manufactured on the newly announced cores.