These days, BSNL is launching something or the other on every alternate day either for its broadband users or mobile network subscribers. The company has launched three new STVs for its prepaid customers ranging from Rs. 101 to Rs. 189 providing both the data and voice call benefits.
BSNL has announced three plans of Rs. 101, Rs. 169, and Rs. 189 and all the three plans are promotional for now, which means that the plans will be valid only for 90 days. Post the 90-day validity, BSNL will either remove the plans or change them according to the market scenario.
As said earlier, BSNL is launching these schemes to provide limited efficacy benefits to the customers. The STV 101 gives customers Rs. 101 balance on their number along with 500MB data per day for seven days. The STV 169 gives Rs. 169 primary balance along wit 2GB data for 21 days, whereas the STV 189 provides Rs. 189 main balance and 3GB data for 28 days.
That said, voice calls will be charged at standard rates based on your current tariff plan. While the STV 169 and STV 189 is in-line with what private telcos are offering, the STV 101 seems to be a great option with 500MB per day for seven days.
However, the validity of seven days is a bit disappointing. BSNL recently launched three new combo STVs of Rs. 333, Rs. 349, and Rs. 395 providing benefits for ten weeks and more. The STV 333 plan is best data plan in the market right now, which offers 3GB data per day for 90 days.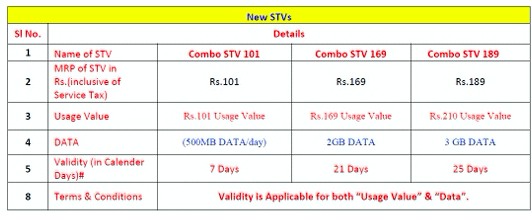 The STV 395 is probably the best-prepaid plan available right now delivering benefits of 3000 local/STD BSNL to BSNL minutes and 1800 BSNL to any network minutes. It also gives you 2GB data per day for 71 days.
Earlier today, BSNL has made a significant change to its affordable and attractive BB249 broadband plan, which is now valid for one-year which was only six months previously. All the users whoever enroll in the BB249 pay the same Rs. 249 for one year to enjoy 2Mbps download speed till 1GB and 1Mbps speed thereafter.
The three combo STVs are already effective starting May 3, 2017.