Bharat Sanchar Nigam Limited (BSNL) has reclaimed its position as the second largest mobile operator in Kerala circle dethroning Vodafone India. Almost a year ago, Vodafone had pushed BSNL to third spot in the circle after the state run operator lost 5 lahks subscribers. As per the latest TRAI report, BSNL is now at second position in the circle with over 76.85 lakhs subscribers compared to Vodafone's subscriber base of 75 lakhs.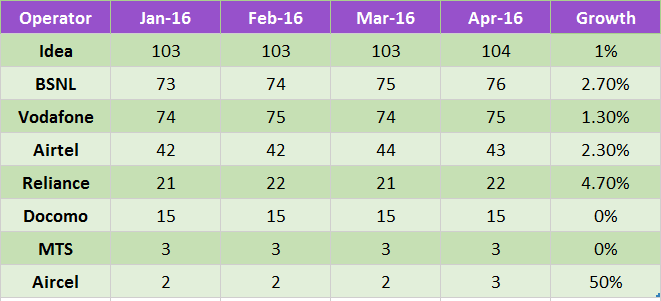 The new initiatives from BSNL to attract more subscribers like free national roaming has helped the PSU gain over one lakh subscribers per month from January to April as per the TRAI report. BSNL registered net growth rate of 2.70% from January to April. While Vodafone's growth rate was at 1.30%. Idea continues to lead the circle with over 1.04 crore subscriber in the circle.
Even after launching 4G and 3G service in the circle, Vodafone has lost significant ground to BSNL. However, with its 3G network now expanding to more locations Vodafone may still have chance to regain its lost position. For BSNL, Kerala is one of the only circles generating profit for the state run company and maintaining top position is of at most importance.
Can BSNL replicate this magic in other circles ? What is making BSNL to be competitive in Kerala circle do share your views in comments.