Though most Indian telcos are still engaged in tariff wars in the mobile sector, the broadband service providers aren't leaving any stone unturned either. BSNL (Bharat Sanchar Nigam Limited) has revised several of its existing postpaid Broadband plans as part of its strategy for 2018. BSNL is now come up with new data tariffs for its Rs 1599 Broadband plan. The BBG Combo ULD 1599 offers unlimited internet data for both download and upload.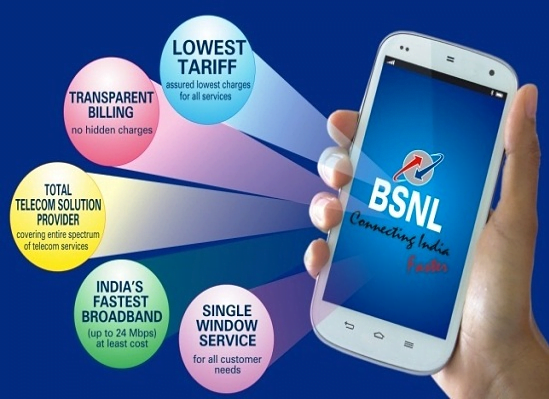 It offers download speed of up to 10 Mbps till 70GB of usage. After the exhaustion of the FUP limit, the company gives you 2 Mbps until the end of the plan.
In addition to the data benefits with BSNL 1599 plan, there are also free calling services included in the plan. The company states the plan comes with unlimited 24 hours free calling for both local/STD calls on any network across India.
The plan also includes one email ID along with 1GB of space with this plan. Users can also get a static IP address with this plan which will cost additional Rs 1800 charges for a period of a year.
As for the charges of the plan, the postpaid BBG Combo UL has priced at Rs 1599 exclusive of taxes. Post SGST and CGST, the plan will cost you more than the stated price.
BSNL also long-term payment option with its BBG Combo plan. The annual payment option gives you a month's service free. You need to subscribe to the plan for a year and will have to pay for 11 months only. Similarly, a two-year payment option gives you three months free service. Lastly, there a three-year contract, that will provide you with six month long services for free.
The minimum hire period for the plan is one month, as with all BSNL Broadband packages. There is a security deposit required of the same amount as that of plan's monthly charges before the company will activate the service.
Elsewhere, BSNL has revised its free unlimited night calling service. The revised timings allow for free calls from 10:30 PM to 6:00 AM unlike the previous timing from 9:00 PM to 7:00 AM. The state-owned operator has also stopped the free calling service on Sundays in certain circles. The 1599 BBG Combo plan is therefore beneficial for users with unlimited internet and calling needs.