State-owned telecom Bharat Sanchar Nigam Ltd has revamped its data offerings for several of its home broadband plans starting December 1. BSNL increased the speed and FUP limits of its Unlimited and Combo Plans starting December 1. This comes amid data tariff wars possibly spilling into the wired broadband segment with Airtel, Reliance Jio, and Vodafone India being new contenders. New entrant Jio is expected to launch its fibre-to-the-home Jio Fiber by early next year with a three-month free period. Anyway, this brings data benefits to broadband customers as well.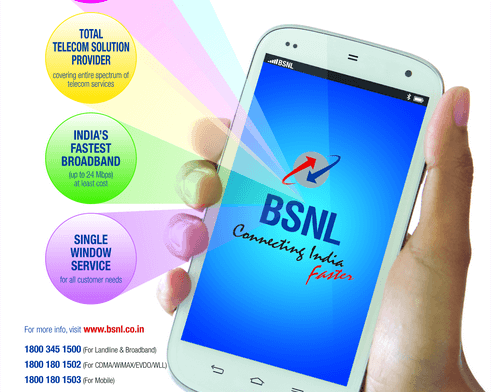 Here are the BSNL's best-unlimited plans under Rs 1000. It is to be noted that all monthly charges are exclusive of taxes which will be extra.
BSNL BBG Combo ULD 499
BSNL's basic unlimited plan starting Rs 499 now offers increased speed of 8 Mbps from earlier 2 Mbps. Also, the FUP limit of high-speed data has been increased from earlier 1GB to 10GB. Following the exhaustion of 10GB, data speed is limited to 1Mbps.
BSNL BBG ULD 545
The Unlimited Broadband Plan for Rs 545 monthly charges offers 15GB of data at 8 Mbps. Once the allocated data is consumed, the speed is throttled to 1Mbps.
BSNL BBG Combo UL 599
Users who want high-speed data without FUP limits can take up BSNL's combo plan for Rs 599. This plan comes with flat 2 Mbps speed and No FUP limit.
BSNL BBG Combo ULD 680
BSNL broadband plan starting Rs 680 offers ultra high speed of 10 Mbps. The high-speed data is, however, limited till 10GB and beyond this the speed drop downs to 2 Mbps. Also bundled with your data plan is free 100GB space for a single Email ID. The plan even includes 100 free calls within BSNL network.
BSNL BBG Combo ULD 699
The Unlimited Combo ULD 699 so far offers the best data benefits. It offers 10Mbps high-speed data. Unlike the other plans, it comes with 60GB FUP beyond which speed is throttled to 2Mbps upon the use of allocated quota. Users also get 300 free calls within the BSNL network.
BSNL BBG ULD 795
BSNL's revamped Rs 795 plan comes with 10 Mbps of high-speed data till 20GB. Beyond this limit, the speed goes down to 2 Mbps. The plan also comes with two email ids instead of one but the space allocated remains 1GB.
Besides, the above-mentioned benefits BSNL's broadband plans come with unlimited free calling whether local or STD to all networks between 9 PM to 7 AM from Monday to Saturday. On Sunday, the unlimited calls are free all day long.
Note: The above plans are based on BSNL Chennai circle.