Keeping its promise of rolling out pan-India VoLTE coverage, Bharti Airtel today announced the launch of its VoLTE services across the rest of Maharashtra & Goa. This announcement comes right after the services commencement in Madhya Pradesh and Chhattisgarh.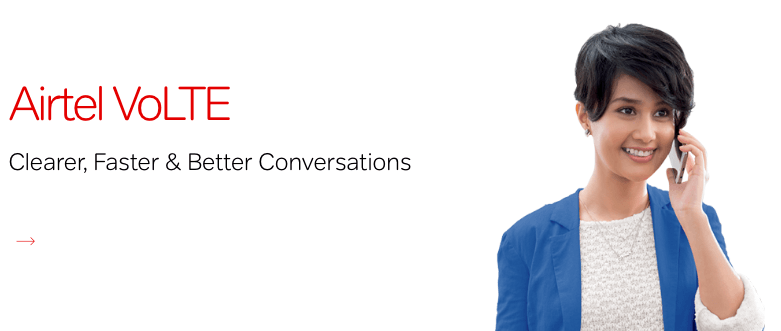 For the unaware, Airtel first launched VoLTE services in Mumbai last month and promised that it would roll out the services across the country by March 2018. Currently, Reliance Jio is the only operator providing pan-India 4G VoLTE services. Airtel VoLTE works on 4G and offers HD quality voice calls along with much faster call set up time.
That said, you can use Airtel VoLTE services in only a 4G/LTE mobile, and that too only in popular phones, as of now. Also, customers must have an Airtel 4G SIM to enjoy the services. There will be no additional data charges for VoLTE and calls will be billed as per existing plan or packs benefits.
As said earlier, Airtel VoLTE is currently available only in popular 4G smartphones. Airtel has now updated its compatibility list with more smartphones. Check out the updated Airtel VoLTE smartphone compatibility list.
Apple iPhones- Apple iPhone SE, iPhone 6, iPhone 6 Plus, iPhone 6S, iPhone 6S Plus, iPhone 7, iPhone 7 Plus, iPhone 8, and iPhone 8 Plus
Samsung- Samsung Galaxy A5 (2017), Galaxy A7 (2017), Galaxy A8, Galaxy A9 Pro, Galaxy J2 (2016), Galaxy J2 Pro, Galaxy J7 (2015), Galaxy J7 (2016), Galaxy J7 Prime, Galaxy J7 Nxt, Galaxy On8, and Galaxy On Nxt
Oppo- Oppo F3, Oppo F3 Plus, and Oppo A71
Gionee- Gionee A1, A1 Lite, Gionee X1, and Gionee X1S
Lava- Lava Z25, Lava Z60, Lava Z80, and Lava Z90
Vivo- Vivo V55L and Vivo Y66
Rohit Marwha, Chief Executive Officer – Maharashtra & Goa, Bharti Airtel said, "We are delighted to launch VoLTE and add yet another service to our portfolio enabling customers to make the most of their mobile phone experience on our world-class 4G network across Maharashtra and Goa. With VoLTE, customers can now enjoy seamless and high-quality voice calls on our robust 4G network."
Bharti Airtel was the first telecom operator in Maharashtra & Goa to launch 4G in October 2012 on 2300 MHz TD LTE band. Airtel added 1800 MHz FD LTE band in February 2017.