Airtel is finding new ways to stay on top of the Indian telecom market. Every new month, we're seeing the company revising its unlimited combo plans for prepaid users. Late last month, Airtel gave a big shock to incumbent telecom operators by introducing a new 'Prepaid Promise' scheme under which the operator also made some popular unlimited combo plans as open market plans.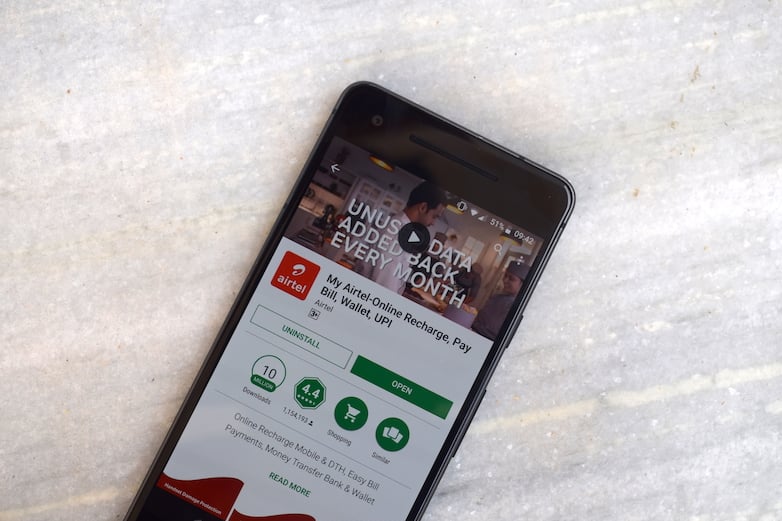 The open market tariff plans from Bharti Airtel right now are the Rs 199, Rs 349, Rs 448, Rs 549, and Rs 799 plans. Having said that, Airtel has yet again revised the Rs 349 and Rs 549 tariff plans, and they're now far better than any other telecom operators plans.
The Airtel Rs 349 unlimited combo plan now gives 2GB data per day instead of the earlier 1.5GB data per day, while the Rs 549 plan offers 3GB data per day, instead of the earlier 3.5GB data per day. Both the plans are valid for 28 days from the date of recharge.
For the unaware, earlier last month, Airtel increased the data offering from 1GB to 1.5GB data per day with the Rs 349 plan, and the Rs 549 plan was revised to offer 2.5GB data per day, up from the 2GB data per day. Later on, Airtel added unlimited roaming calls to these plans.
Overall, the Rs 349 plan from Airtel now gives 56GB data per month, while the Rs 549 plan offers 84GB data during the period. That said, Airtel did not make any changes to other unlimited combo plans such as Rs 199, Rs 448, and Rs 799. The Rs 199 plan offers unlimited voice calls and 1GB data for 28 days, the Rs 448 plan gives 1GB data per day and unlimited local, STD, and national roaming calls for 70 days.
We have checked for the revised Rs 349, and Rs 549 plans on eight telecom circles including Andhra Pradesh & Telangana, Mumbai, Delhi, Kolkata, etc., and the changes are already reflected. Do make a note that you need to head over to the 'More Offers' section in the My Airtel and search for the Rs 349 or Rs 549 plan, which displays the new plans.
What do you think of these new changes from Bharti Airtel? Are they of any good? Let us know by commenting below.