The Telecom Regulatory Authority of India (TRAI) released industry subscriber data of April yesterday, which showed Bharti Airtel adding more active subscribers than Reliance Jio for the first time since Jio's launch last year.
A report from Goldman Sachs says, Jio added 0.4 million active (VLR) subscribers in April, its fourth straight month of deceleration and with Jio starting to charge from April, the slowdown in subscriber additions is likely to continue in coming months as well.
Here's what the report has to say about the April subscriber data:
29 percent of Jio's 112 million SIM cards were inactive as of April 2017
According to the TRAI data, of the 113 million subscribers of Reliance Jio as of April, 29 percent were inactive, and this proportion continues to rise. However, with 80 million active subs, Jio held a 34 percent share in the wireless broadband market in April, significantly ahead of Bharti's at 22 percent.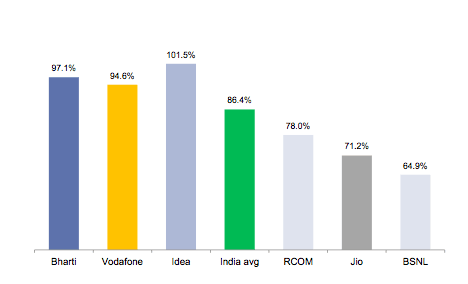 Bharti added more subscribers than Jio for the first time in 8 months
The report says that Bharti Airtel has added more active subscribers than Reliance Jio in April 2017, for the first time in eight months. Airtel has added 2.6 million active subs in the month of April, while Jio has added just 0.4 million active subscribers.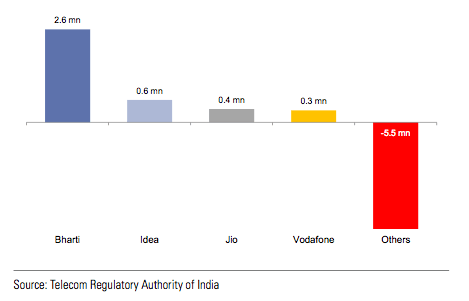 Subscriber Additions for Jio Continue to Slowdown
After becoming a paid service, the subscriber addition of Jio slowed down and it's continuing with every passing month. And the month of April is no different as well. The net additions of Jio were 3.9 million, while active subs stand at 0.4 million.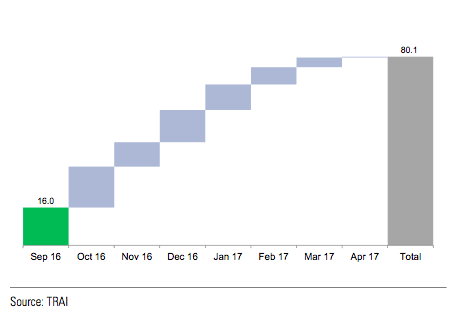 No uptick in MNP requests, indicating subscribers still not using Jio as primary number
Requests for mobile number portability (MNP) for the industry in April was five million, in line with prior months, indicating most subscribers have not yet switched to Jio as their primary mobile number. Ericsson says that it's a worrying trend for Jio and if similar trends continue, it could potentially prompt a need for more aggressive tariff/promotions from Jio.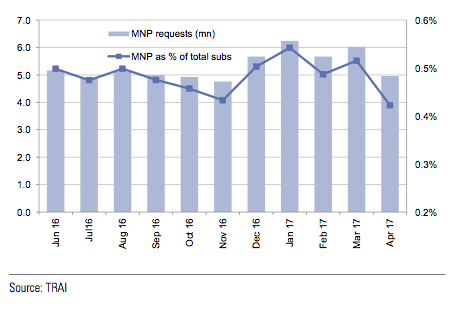 3G/4G subscriber continue to see a pick-up for Bharti Airtel
For the first time since Jio's launch (in September 2016), Bharti added more (active) subscribers than Jio. Data subscriber additions (3G/4G) continue to see an uptick for Airtel, and with Jio now starting to charge, this number is likely to stay strong for Airtel in the coming months, as customers shift usage back to incumbents.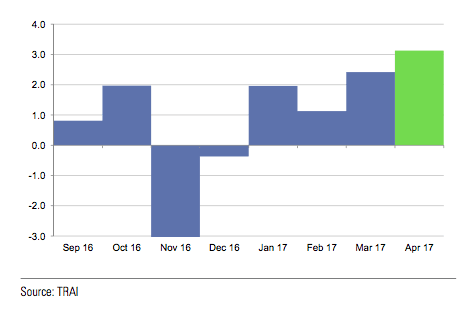 Smaller telcos have been the most impacted since Jio's launch, losing 35 million subscribers
Smaller telcos (outside top 3) lost another five million users in April, suggesting that smaller telcos continue to be the most impacted from Jio's promotional services. These operators have lost 35 million subs since Jio's launch but still accounted for 23 percent of industry revenue 4QFY17 - according to TRAI data.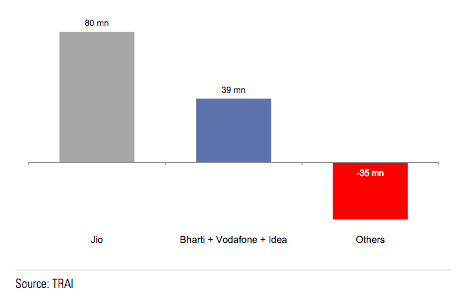 Jio continues to have the highest market share of wireless broadband
Having said that, Reliance Jio continues to have the highest market share of wireless broadband services in India. By the end of April 2017, Jio had a market share of 34 percent, followed by Bharti Airtel with 22 percent share, Vodafone with 17 percent, and Idea Cellular with 10 percent.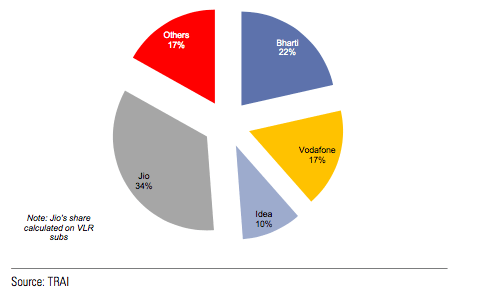 Furthermore, the report says that Reliance Jio will do whatever it needs to increase the subscriber base. India had nearly 150 million 4G smartphones (GSe) as of March 2017 (with 7-10 million new 4G smartphones getting added every month), giving Jio close to 50 percent market share of 4G smartphone user base in the country. However, with incumbents responding to Jio's promotions by lowering their own tariffs, incremental subscriber additions for Jio is likely to remain challenged.
The report says "Jio is likely to make its next big push on subscriber additions when it launches a 4G feature phone to target mid-to-low end of industry subscriber base, but until then subscriber additions are likely to remain subdued."