Airtel today announced launch of 'V-Fiber' in Ahmedabad, to offer superfast broadband to its customers will deliver speeds of up to 100 Mbps over Airtel's existing broadband footprint in the city. Existing Airtel broadband customers can upgrade to 'V-Fiber' speeds to enjoy superfast data speeds at no extra monthly cost. If they are not happy with the service within one month, Airtel will refund the activation charges and the amount will be adjusted in the next bill cycle. New customers can avail the 3 month unlimited offer and subsequently choose exciting V-Fiber plans starting from Rs. 999.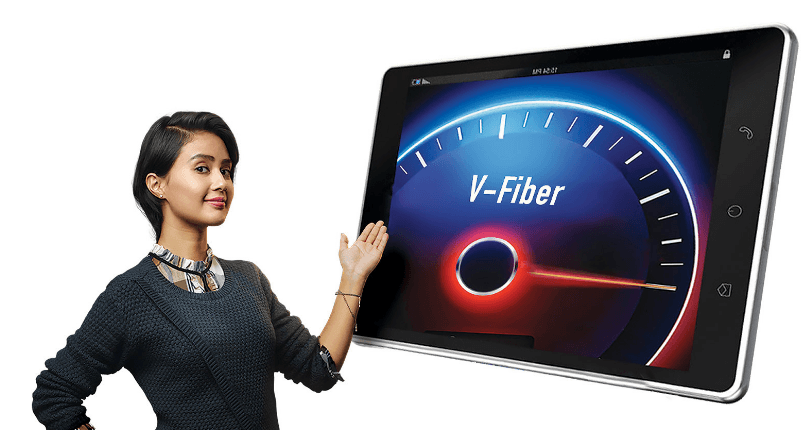 Murthy Chaganti, CEO - Gujarat, Bharti Airtel said, "We are delighted to bring 'V-Fiber' to our customers in Ahmedabad, as part of our endeavour to deliver best-in-class broadband experience to users. With 'V-Fiber', we are all set to offer an altogether transformed experience on our future ready network to the digitally savvy homes. This solution offers a very quick and convenient upgrade to the customer. Our innovative myHome Rewards program and free voice calling facility will certainly add to the delight of Ahmedabad's Digital Homes."
'myHome Rewards'
Airtel's 'myHome Rewards' program provides free additional data benefit of 5GB per month for every other Airtel service connection – postpaid mobile or digital TV (DTH) – within the home/family.
Also read: Airtel 'V-Fiber' in Mumbai , Airtel 'V-Fiber' Chennai
Customers can avail this exciting offer for their existing as well as new Airtel postpaid mobile and digital TV connections. So, if an Airtel broadband home has two Airtel postpaid mobiles and one Airtel digital TV connection then 15 GB free additional data will be added to their broadband account every month.
Unlimited free voice calls
Airtel also announced the launch of unlimited free voice calling for all broadband customers. The facility is now available across broadband plans and customers can make unlimited free voice calls to any network across the country at no extra cost.
Also read: Here's Everything You Should Know About Airtel's V-Fiber Broadband Service
Airtel V-Fiber deployment is a part of Airtel's nationwide network transformation initiative – Project Leap started last year. Under the initiative, Airtel is also augmenting its 550,000 Kms of domestic & international fiber/submarine cable capacity in order to drive down latency, improve customer experience and serve the growing demand of data services in years to come. The Company is also increasing caching of content at its data centres to improve data experience for customers.