Airtel today official launched its 4G service on a  TD-LTE, making India one of the first countries in the world to commercially deploy this cutting-edge technology.During the 4G launch Kapil Sibal admitted the fact that 3G spectrum is costly hence the tariff is high. He also told that true internet revolution will come when affordable devices will come in the market. He shared his dream to get every Indian child to have tablet containing e-books instead of a bag full of books.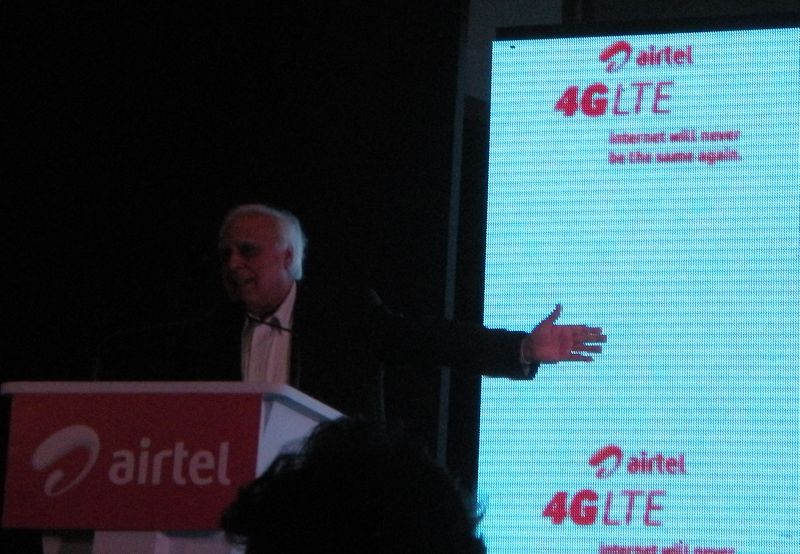 With this launch, India joins the most advanced telecom markets in the world and marks the beginning of a new chapter in the country's telecom success story.Airtel's 4G (TD-LTE) network was launched by Mr. Kapil Sibal, Hon'ble Minister of Communications and Information Technology, Government of India.
After Kolkata Airtel will be launching 4G in Bangalore this month followed by Pune and in Chandigarh the cost of the 4G USIM  will be Rs 49 and airtel 4G dongle will be priced at Rs7999 indoor wifi CPE @ Rs 7750.
In 2010, Airtel had successfully bid for BWA license spectrum in Kolkata, Karnataka, Punjab and Maharashtra (excluding Mumbai) circles. It is currently working towards rolling out state-of-the-art networks in circles other than Kolkata.
As an Intro offer for postpaid 999 users will get discount of Rs 167 per bill for 6 months and 1399 users will get discount of Rs 466 per bill for 6months and there will be no 4G smartphone as of now.
Airtel 4G , besides offering rich content, will allow superfast access to High Definition (HD) video streaming, multiple chatting, instant uploading of photos and much more. It will also help in bridging the digital divide and add to economic growth in rural areas by enhancing the reach of e-governance, e-health and e-education services.
For Airtel 4G tariff details click here