It has been already a year since Google officially released the Android Nougat and a lot of OEMs have already updated their devices to the latest version. However, Xiaomi is one such OEM who doesn't release Android upgrades. Instead, Xiaomi chooses to add new features in the MIUI itself rather than changing the core to latest Android version.
Most of the Xiaomi devices are still running Android 6.0.1 Marshmallow based MIUI 8. Some devices such as the Xiaomi Mi 5, Mi Max 2, Mi 5s, and Mi 6 are running the Android Nougat OS. However, it's still MIUI 8. With every passing day, there's a concern raising in Xiaomi smartphone users when they will receive the update.
That said, here's a sweet news for Xiaomi users waiting for the said news. A Chinese site has leaked an official image from Xiaomi, which has a list of Xiaomi phones which will receive the Android 7.0 Nougat update and the Android 7.1 Nougat update.
Firstly, the recently released devices Mi 6, Mi Max 2, Mi 5C and Redmi 4X will receive the Android 7.1 Nougat update. And other smartphones, which will receive the Android 7.0 update are Mi4c, Mi4s, Mi Note, Mi Max, Mi 5, Mi 5s, Mi 5s Plus, Redmi Note 4X, Mi 6, Mi Max 2, Mi 5C, Mi Note 2, and Mi Mix.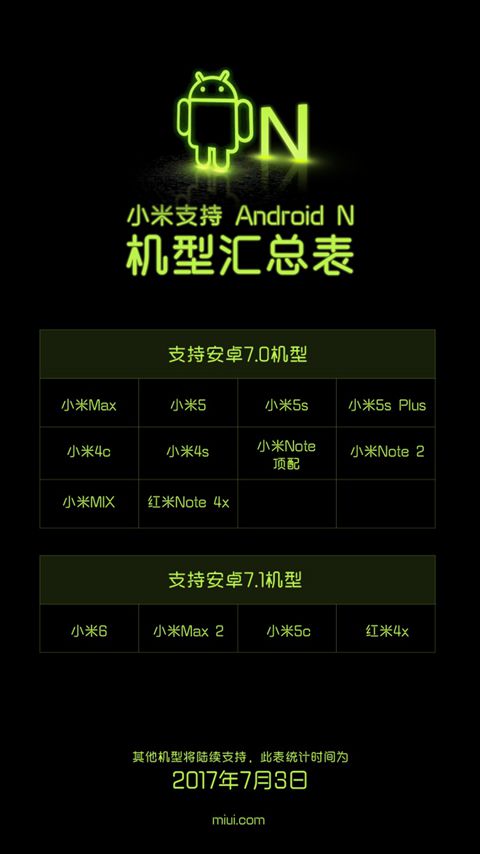 Having said that, some of the devices in the list mentioned above have already received the update. Furthermore, the notable missing in the list is the Xiaomi Redmi Note 4 smartphone, which is by far the best budget smartphone of 2017 (until now). At the time of launching the Redmi Note 4, Xiaomi released a beta ROM based on Android Nougat for the Note 4. So, the device will receive the Android Nougat OS sooner or later.
Also, the Xiaomi Mi Note is a surprising inclusion, given that the device is nearly a two-year-old model. The Apple of China is slated to release Android Nougat based MIUI 9 this month. Also, if your device is not mentioned in the list, don't be wrecked because Xiaomi will at least update it with MIUI 9, which will bring some of the Android Nougat features.
At the moment, there's no timeline from Xiaomi on when the update will be released to the phones mentioned above.