Two days ago, we published a report about YU Yutopia's launch slated on December 7. Now, in the latest turn of events, YU has announced that it will now unveil the device on December 17. YU's Co-Founder and CEO, Rahul Sharma took to Twitter and announced that YU is planning to launch something special along with Yutopia. The company has not unleashed any detail about the mystery product because of which Yutopia's launch date has been shifted.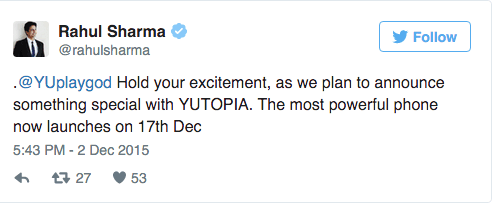 Moreover, Cyanogen Inc. also gave out a confirmation recently, which states that the YU Yutopia will run Cyagnogen OS 12.1 based on Android 5.1 Lollipop. In earlier reports or teasers, YU had also hinted that the smartphone will feature a big battery, and metal body.
The company also mocked many rival manufacturers through its teasers for Yutopia. It would be interesting to see if the device is worth all the buzz that is being created for it, ever since it first leaked. Stay tuned with us to know more about YU Yutopia.