Xiaomi has officially announced that it will be unveiling the Mi Mix 2 smartphone on September 11 in China. The smartphone is expected to come with an insane screen-to-body ratio as its predecessor, along with upgraded and powerful internals.
Now, a new leaked screenshot appeared on Weibo revealed the key specifications of the smartphone. As you can see in the image, the model number is clearly visible as Mix 2. The Mi Mix 2 will run Android 8.0 Oreo, which is surprising because Xiaomi recently released the MIUI 9 on top of Android 7.0 Nougat. That said, these images could be fake ones, so take this news with a pinch of salt.
With every passing day, there's a huge anticipation building about the display size of the Mix 2. Last year's Mi Mix featured a massive 6.4-inch display, but this year's Mix 2 will likely feature a 6.2-inch display, according to the screenshot. The resolution of the display will be 2960 x 1440 pixels, in line with other flagship phones out there with the edge-to-edge display.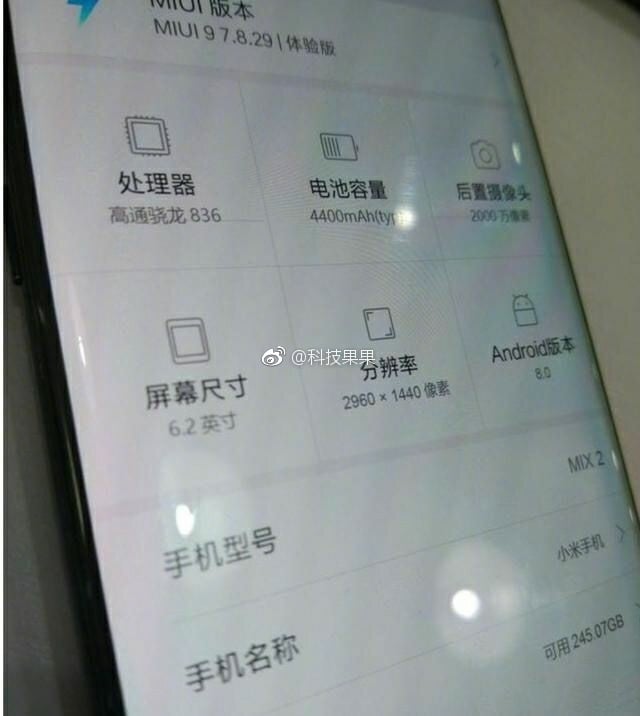 Besides this, the screenshots also reveal the presence of 4400mAh battery in the Mi Mix 2, along with a 20MP rear camera. However, there might be a secondary sensor at the back of the Mi Mix 2 because several rumours tipped at a dual camera setup for the Mix 2. There might be a smaller 16MP secondary sensor in the Mix 2.
Previous rumours suggested that Xiaomi is looking to launch the device in several variants with storage going all the way up to 256GB. The screenshots reveal that the storage on that phone is 245GB, meaning, the internal storage will be 256GB in the Mi Mix 2.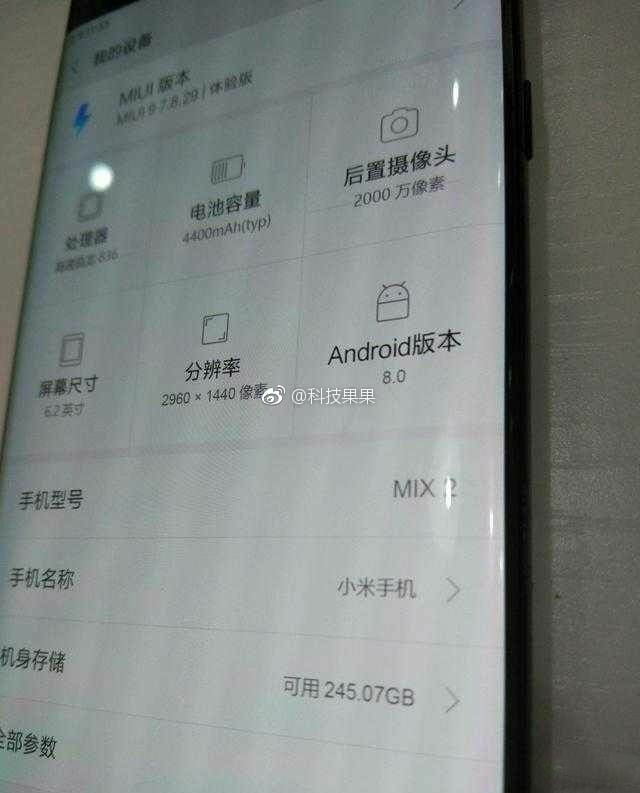 Furthermore, the screenshots also hint that the device will be powered by the Snapdragon 836 chipset, which is yet to be announced by Qualcomm. Recently, some rumours said that the Google Pixel 2 lineup will be the first ones to make use of the yet-to-be-announced chipset, but this rumour says Mi Mix 2 will pack it already. There's no word on RAM in the device. The Mix 2 is expected to pack up to 8GB of RAM.
The launch date of the Mi Mix 2 is not far away. We're expecting that more details about the phone will surface online before the official launch.