Xiaomi has scheduled yet another smartphone launch in India on July 18. The company is using the tagline 'Big is Back,' meaning they will be launching a big smartphone and the one in the pipeline is the Xiaomi Mi Max 2, which was unveiled in May this year. The Mi Max 2 succeeds last year's Mi Max a massive hit for the company in India.
This launch is very much expected from Xiaomi because the company is not willing to launch the flagship Xiaomi Mi 6 in India anytime soon. The Xiaomi Mi Max 2 brings upgrades to the camera, battery, and design when compared to the Mi Max.
The Mi Max 2 comes with a 5300mAh battery with Qualcomm Quick Charge 3.0 technology and Parallel charging technology. That said, with the help of both technologies, the Mi Max 2 can charge up to 68 percent in just one hour. Furthermore, Xiaomi promises a two-day battery life claiming the massive battery as 'capacity like a power bank.' According to Xiaomi, the Mi Max 2 will offer 18 hours of video playback time, ten days of music playback, nine hours of gaming, and 57 hours of calling with one complete charge.
The second prominent feature in the Mi Max 2 is its camera. The device houses a 12MP Sony IMX386 sensor with 1.25-micron pixel camera. The sensor is identical to the Mi 6's primary sensor, claims Xiaomi. The increase in pixel size means the photos captured will appear with more light. Xiaomi states that there will be 56 percent increased light in the photos captured by Mi Max 2. Also, there's a 5MP front-facing camera, and the camera app has inbuilt beautification mode.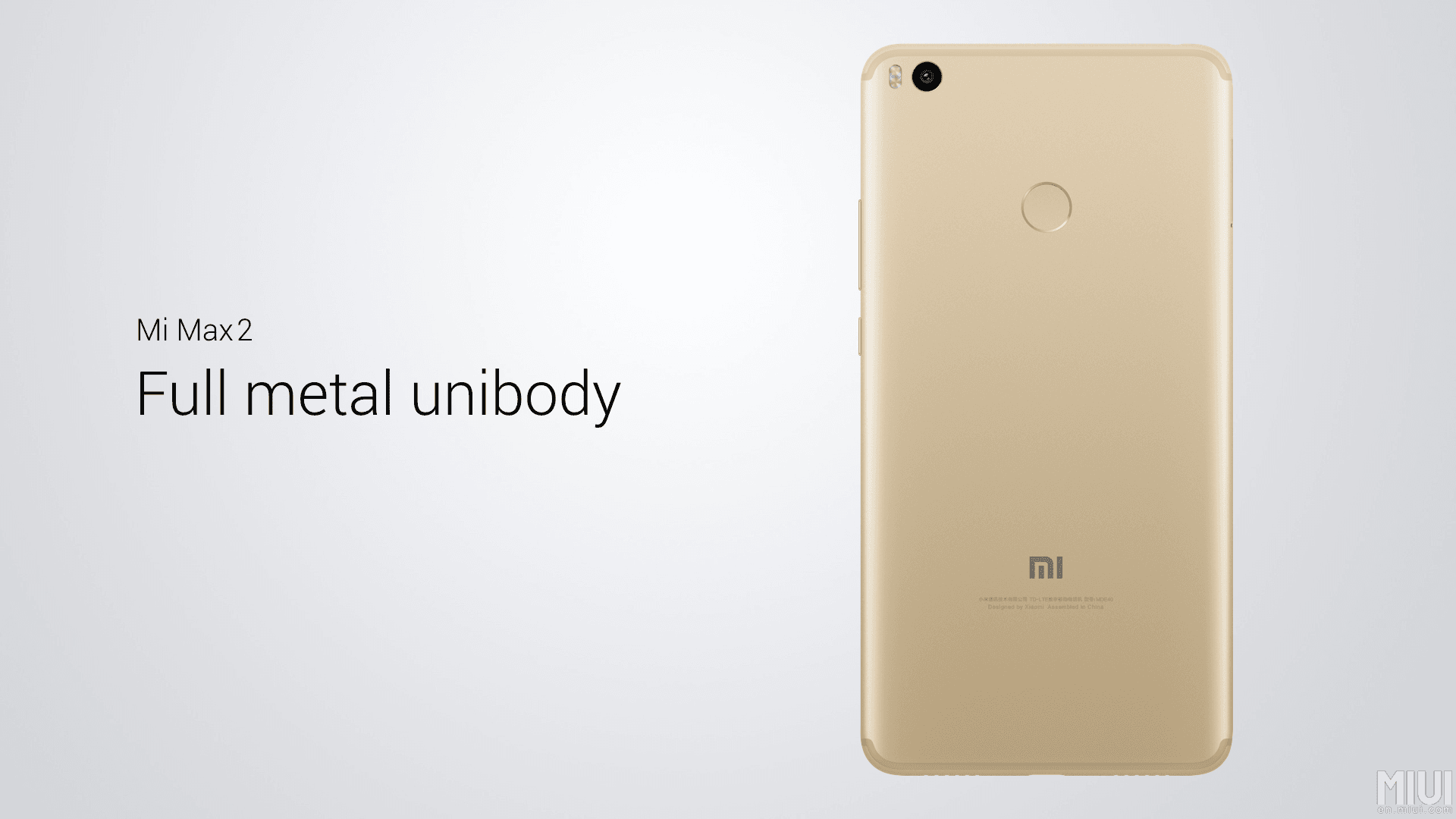 Design wise; the Mi Max 2 comes with full metal unibody symmetric design with rounded corners and dual-band antenna design, same as the Apple iPhone 7. Furthermore, Xiaomi has trimmed down the side bezels to make the device compact in hands. The device has the same 6.44-inch Full HD display and a fingerprint sensor at the back.
The Xiaomi Mi Max 2 is powered by the Qualcomm Snapdragon 625 chipset, with a 2.2GHz CPU on top. The phone comes with 4GB of RAM and in two storage options-64GB and 128GB. The Mi Max 2 has connectivity options such as 4G LTE, VoLTE, Wi-Fi 802.11/b/g/n, Bluetooth, GPS, and a USB Type-C port. The Mi Max 2 runs on Android 7.1.1 Nougat, but sadly it's still the MIUI 8 and not the MIUI 9.
The phone will be officially unveiled on July 18. At the moment, it is unclear whether Xiaomi is planning to bring two variants of the phone or only a single variant to India.