Xiaomi is now the leading smartphone brand in India with a market share of 23.5%. The Chinese company shares the spot with South Korean giant, Samsung, which also has 23.5% market share in the country. As per IDC Report of Q3 2017, smartphone shipments in India reached a record high of 39 million units with a growth of 40% QoQ, and 21% YoY.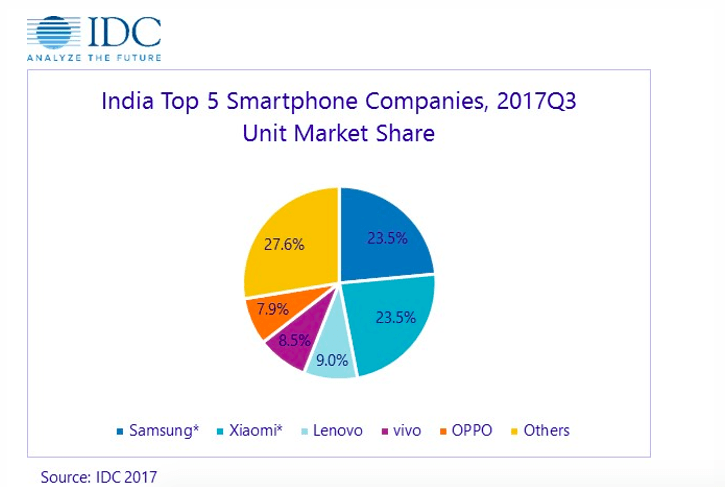 IDC in its latest Quarterly Mobile Phone Tracker, Q3 2017 report said that India has accounted 10 percent of the global smartphone shipments for the first time ever in a quarter. The entire reason behind these record-breaking shipments in pre-Diwali sales, where almost all the brands have discounted their popular smartphones. e-tailers have registered a 35% annual growth and 73% QoQ growth.
IDC also revealed the top five vendors with market share in the country. Xiaomi India has shipped a whopping 9.2 million smartphones and it now shares the top spot with Samsung with a market share of 23.5% each.
The competition amongst the top five vendors further intensified to capture a larger share of 72% of the smartphone market compared to 50% a year ago. Samsung and Xiaomi led the smartphone market in the quarter with each having 23.5% market share.
"Xiaomi's aggressive pricing made the brand a clear winner in selling devices on eTailers and direct internet platform. The brand's offline expansion through preferred partner program and Mi stores are also getting a good response as its shipments doubled from the last quarter," said IDC in the report.
"In the coming few quarters, both Samsung and Xiaomi would need to further strengthen their channel play and significantly differentiate their products on technology and quality to sustain and fight for leadership in this hyper-competitive smartphone market," says Upasana Joshi, Senior Analyst, IDC India.
The top five smartphone vendors in the Indian market are Samsung, Xiaomi, Lenovo (including Motorola), Vivo and Oppo. Samsung has been the leading smartphone brand for seven now, but the company is facing a tough fight from Xiaomi.
Everyone expected that Xiaomi will pip by the end of 2017 to become leading smartphone brand, but Samsung had a record-breaking Q3 2017 as it registered 39% sequential growth QoQ and 23% year-on-year (YOY). The Samsung Galaxy J2, Galaxy J7 Nxt, and GalaxyJ7 Max were the key models that contributed to almost 60% of Samsung's volume.
Xiaomi, yesterday announced that it sold 9.2 million smartphones in Q3 2017, thanks to the pre-Diwali sale. The Redmi Note 4 continues to be the best-selling smartphone in India as Xiaomi shipped close to four million Redmi Note 4 units this quarter.
Lenovo and Motorola made it back to the third position after two quarters of losing the place to Vivo. Lenovo' shipments increased 83% when compared to previous quarter. IDC also added that Motorola now contributes two-thirds of Lenovo's portfolio.
Chinese brand Vivo shipped to the fourth position in the country as its shipments declined after a memorable second quarter Vivo, however, registered an annual growth of 153%. The strong sales of Vivo V7+ got the company back into the running, and Vivo Y69 also received strong traction in the market.
Vivo's parent company, Oppo had the biggest sell-in quarter so far in India as the shipments increased by 40% sequentially and 81% from same period last year.