Vodafone India second largest telecom operator has announced a new scheme for college students in Delhi-NCR. It's the beginning of a new academic year, and with colleges set to reopen in a few days, students of Delhi-NCR are gearing up to one more exciting and challenging chapter of life.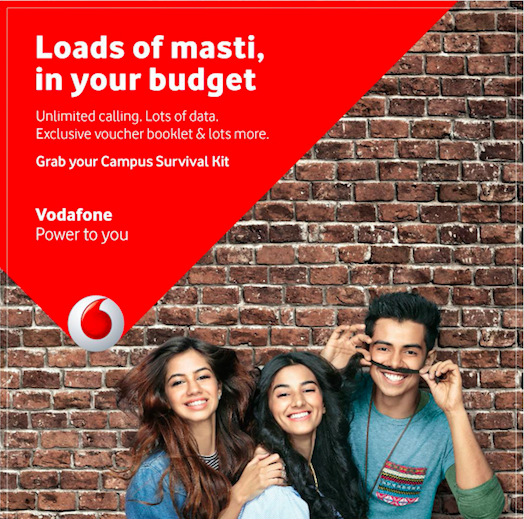 For needs of every collegian, Vodafone India presents Vodafone Campus Survival Kit, a smart solution offering students unlimited calls, 1GB/day for 84 days to take care of their data need and the need to stay connected at all times. In addition, there are multiple campus hacks to save pocket money and a trendy messenger bag free as part of the offer. However, Vodafone did not announce the price of the plan.
Vodafone says that "For every college going student, one element that tops the list of priorities is balancing their expenses with limited allowance allocated. For collegians, the mobile phone is the one most critical companion, keeping them constantly connected with friends on Social media."
Vodafone Campus Survival Kit offers unlimited calling and 1 GB daily data packs to the students. Each kit also contains a booklet of deals including recharge vouchers, discount coupons from Ola, Zomato and various other brands, plus a series of value for money life hacks.
Additionally, Vodafone is engaging with young consumers on radio and other platforms by sharing fun value for money hacks. Announcing the launch of Vodafone Campus Survival Kit, Mr Alok Verma Business Head, Vodafone Delhi-NCR, said, "The beginning of college life opens a world of opportunities and experiences for youngsters. While they want to use their new found freedom to explore these opportunities, their tight pocket allowance proves challenging."
"To overcome this challenge, they are always looking for hacks and shortcuts to be resourceful and live life to the fullest. The Campus Survival Kit is an initiative to equip them with the great telco and non-telco deals and innovative value creating hacks to help them sail through their college life without compromising," he added.
Vodafone has also set up free Wi-Fi hotspots across the north campus; these locations are primarily favourite hangout places of students. Hudson Lane, Kamla Nehru market is among the other locations where free Wi-Fi has been made available by Vodafone. In addition, Vodafone has a network of 110+ Wifi hotspots across Delhi-NCR.