Vodafone India's second largest operator by subscriber base has recently declared that it will be launching 4G operations in 5 circles by the end of this year. Vodafone does not have sufficient 4G spectrum like Airtel and Reliance Jio and sees its short term growth and revenue share coming from 3G data services, which is why when Airtel launched its offering as 4G at 3G rates, Vodafone launched double data benefit for its 3G subscribers.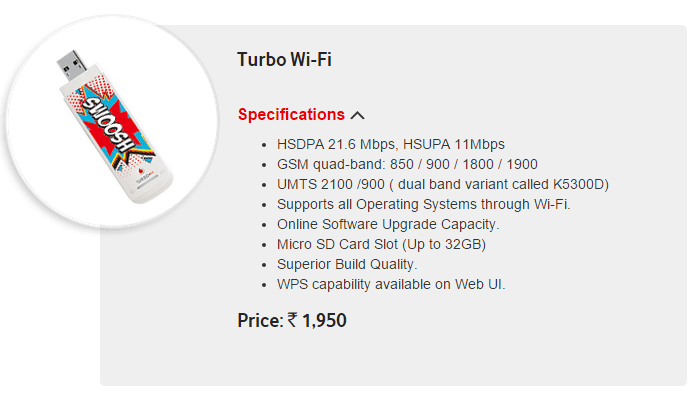 Vodafone has launched a new wifi dongle (Wingle) called 'Turbo Wifi' which supports upto 10 simultaneous connections, with a price tag of Rs.1950.
The dongle supports a peak download speed of upto 21.6 Mbps and a peak upload speed of 11 Mbps. It supports 3G on dual band 2100MHz and 900MHz. It supports 2G data on quad band 850/900/1800/1900 MHz. The dongle has support for all major operating systems like Windows OS, Mac OS, Android, iOS through wifi. It supports a memory card of capacity upto 32GB. It has WPS capability and the device software is upgradable online. Similar unlocked wingles are available on the open market in roughly the same price band with the added freedom of choosing the operator of your choice.
What data card do you currently use, EVDO or HSPA? is it a wifi enabled dongle or a regular data card? which operator gives you the best coverage and tariffs? Let us know your experience through your comments below.