Ever wondered how cool it would be if you could get your home WiFi connection to follow you wherever you travel across the city, so you would not have to rely on your cell phone network provider's slow data connection be it 2G or 3G. Here is a pioneer effort in a one of its kind app. Unifi app allows users to share their home broadband connection over WiFi with other users of the unifi app and in return the person sharing is entitled to get access to the thousands of other registered unifi hotspots across Mumbai. Basically this is as good as carrying your home broadband router with you on the move.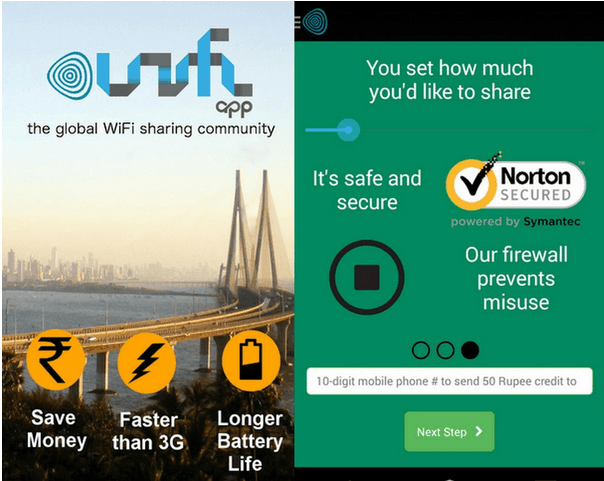 There are many questions that come to mind when a person thinks about sharing his wifi connection with other users like, how secure is it to grant access to strangers to my home wifi connection? What if they use it for criminal activities, will I be liable to face the consequences? What about my bandwidth, will I get slower net connectivity due to other people sharing my wifi connection? What about my monthly data cap under FUP, will I get lesser data to use? Let's answer these common questions one by one.
The portion of your WiFi connection that you share with other unifi app users is completely secured. Unifi app uses "Norton" SSL encryption between the app and its web server.
You get to choose what percentage of your bandwidth you wish to share with other users, for example if you have a 10Mbps connection at home and you select 10% of bandwidth for sharing, then the shared network will be of 1Mbps speed thus 90% of your bandwidth still remains untouched and for your personal use only. Next you get to choose how much data you wish to share with other users, for example your monthly data FUP is 25GB you may select to share just 5GB of that with other users. Keep in mind that you are entitled to use only as much data from other unifi hotspots as much as you share your own home WiFi connection.
Unifapp has firewall built into the VPN connection that has been setup between the phone and our servers. The combination of the VPN and the firewall is used to prevent misuse, throttle the bandwidth consumed, and prevent access to the local networks of users who are sharing their WiFiconnections.
As a promotion at launch, unifi is giving Rs.50 bonus prepaid talk time to the first 5000 users who register their home WiFi on their network. At the time of writing this article, there are already nearly 4700 registered hotspots, so there are still another 300 people who can get the free bonus talk time on registering. As of now this service has been launched in Mumbai only and will soon be launched across other metro cities in India.
As a reader what is your opinion about this unique concept of WiFi sharing across a city? Do you think it will be successful in creating city wide free WiFi zones? Let us know your views through your comments.