TRAI has released telecom subscriber data for the month of May 2015. The total telecom subscriber base was at 1002.05 million and overall tele-density was at 79.67% at the end of May 2015.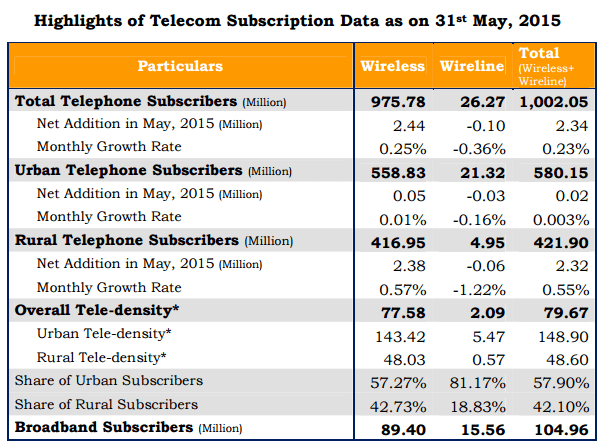 In the month, total of 2.34 million new subscribers were added generating a monthly growth rate of 0.23%. Wireless subscriber witnessed net addition of 2.44 million subscribers out of which 2.38 million were from rural and just 0.05 million subscribers from urban. Wireline segment continue to decline and lost 0.10 million users. Urban tele-density was at 143.42% and rural tele-density was at 48% showing potential for future growth in rural. In the month of may 3.24 million subscribers submitted their request for MNP.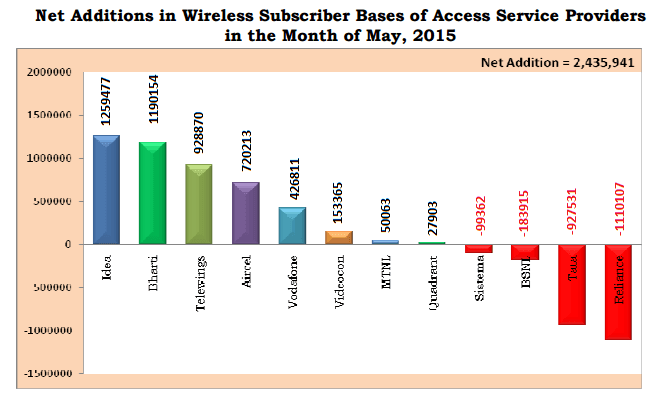 Idea cellular topped net addition with 1.25 million new customers taking its subscriber base to 160 million. While Bharti Airtel added 1.19 million subscribers taking its total subscriber base to 229 million. Uninor came third in terms of net addition with 928,870 new subscribers. Aircel and Vodafone added 720,213 and 426,811 subscribers respectively. At the same time, Reliance Communications, BSNL, MTS and Tata Teleservices registered negative growth. RCOM lost over 1.11 million subscribers and TATA lost 927,531 million subscribers. BSNL and MTS lost 183,915 and 99,362  subscribers respectively.
Broadband subscribers base in the country increased to 104.96 million at the end of May 2015. Bharti Airtel was leading with 23.39 million subscribers followed by Vodafone with 21.27 million. BSNL had 18.50 million and Idea secured 4th position with 15.76 million subscribers. The landline connections in the country continued to decline and was at 26.27 million at end of May 2015.