We all know that India lags severely in terms of internet rankings. Here is a snapshot of India's position from Akamai's State of Internet Q1 2016 Report -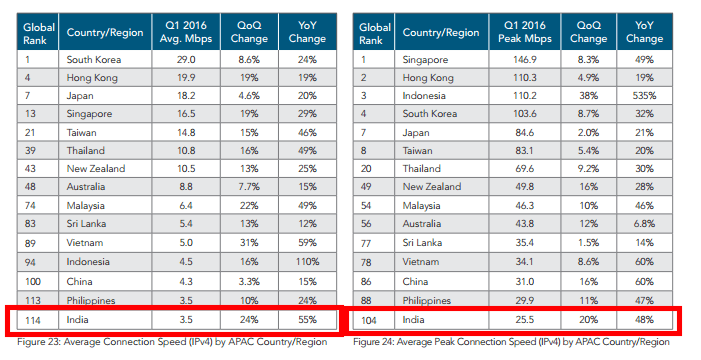 While Jio was termed as a hope to gain some positions in this kind of lists, the reality doesn't seem to change so soon. We believe it is important to take some concrete measures, preferably by a regulator like TRAI for things to change. Unfortunately, TRAI recently set a bad precedent by saying it's OK to have minimum broadband speed at 512 kbps.
As we have repeatedly stated, crowdsourcing is the best way to learn the ground reality. An app installed on subscriber devices could collect data at regular intervals, anonymize and submit it to the regulator. Yes, TRAI has done a reasonably good job by introducing a speed test app but a lot needs to be done in this space. The app could collect more information and display it in the TRAI MySpeed portal -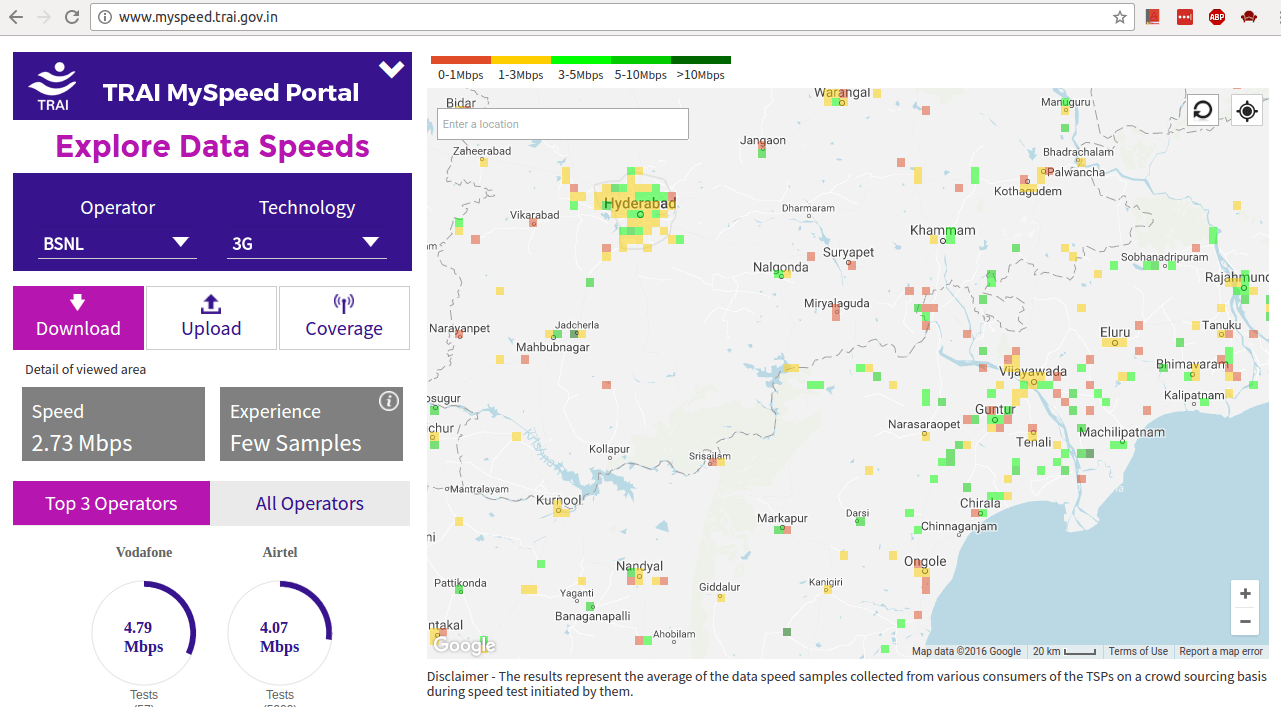 Ofcom Mobile Research
Now let's take a look at how Ofcom, the TRAI equivalent regulator in the UK is working towards gaining insights into consumer problems. The Ofcom mobile research app invites volunteers to install the app and does not require any manual tests to be run.
Ofcom's research aims to build an independent benchmark for both consumers and industry. This information will help people when they are choosing a mobile deal, and will also be used to enhance Ofcom's mobile coverage maps and consumer research.

The information will also allow us to meet the growing demand for more services. For example, understanding the apps people are using, and where and when they use them, will help us predict how much radio spectrum will be required in the future and plan accordingly.
This research app:
Works quietly in the background on your phone, gathering anonymous readings of signal quality, voice call success, mobile data performance, and app use.
Regularly tests your mobile phone's internet connection by downloading a small amount of data every 15 minutes (totaling no more than 3MB per month).
Occasionally asks some 'pop up' survey questions so we can measure how your usage of particular apps is affected by the performance of your connection.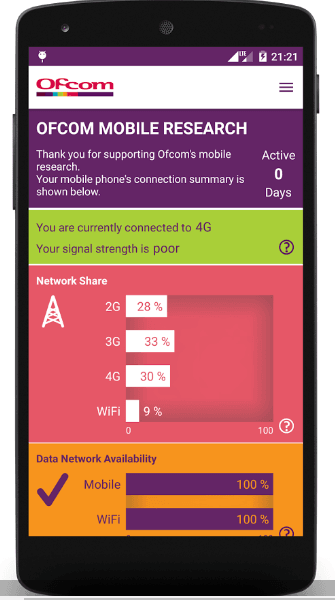 The Ofcom app is designed to prompt users to answer short surveys for popular apps thus helping the respondent to answer based on real experience -

Ofcom Broadband Research
In addition to the above app for wireless subscribers, Ofcom also has a solution for wired broadband subscribers. They have partnered with SamKnows (who works with regulators around the globe) for the purpose. On registering as a volunteer, SamKnows ships a device called Whitebox to measure various parameters of a consumer's broadband connection -
The Whitebox is a small Linux-based hardware device, capable of running SamKnows' suite of broadband performance measurements.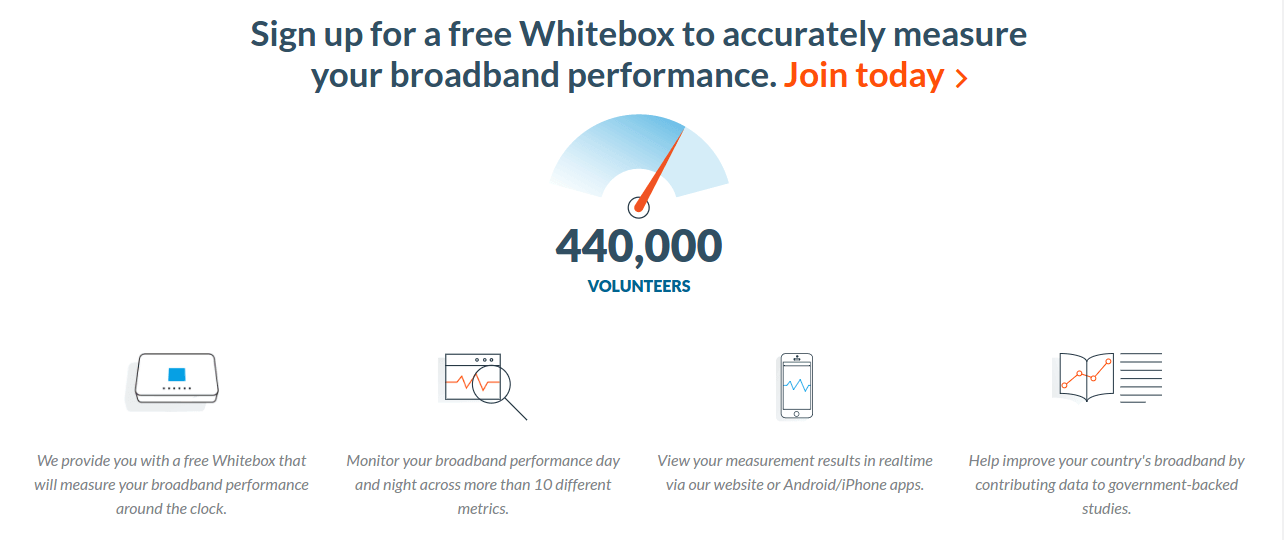 SamKnows runs a comprehensive suite of tests without disturbing the user's internet experience, the results of which would be used by Ofcom (and other regulators depending on the country) to understand how various operators fare -
Speed Tests
Web Browsing
Video Streaming
Voice Over IP (Jitter)
UDP Latency and Packet Loss
UDP Latency and Loss Under Load
UDP Contiguous Loss (Disconnections)
DNS Resolution
FTP Transfer
Peer-To-Peer (BitTorrent)
Email Relaying
YouTube Measure
Netflix measure
BBC iPlayer measure
Multicast IPTV
Cross-traffic detection (Inline / pass-through)
Cross-traffic detection (Out-of-band)
Here are the snapshots of results of such studies published by Ofcom -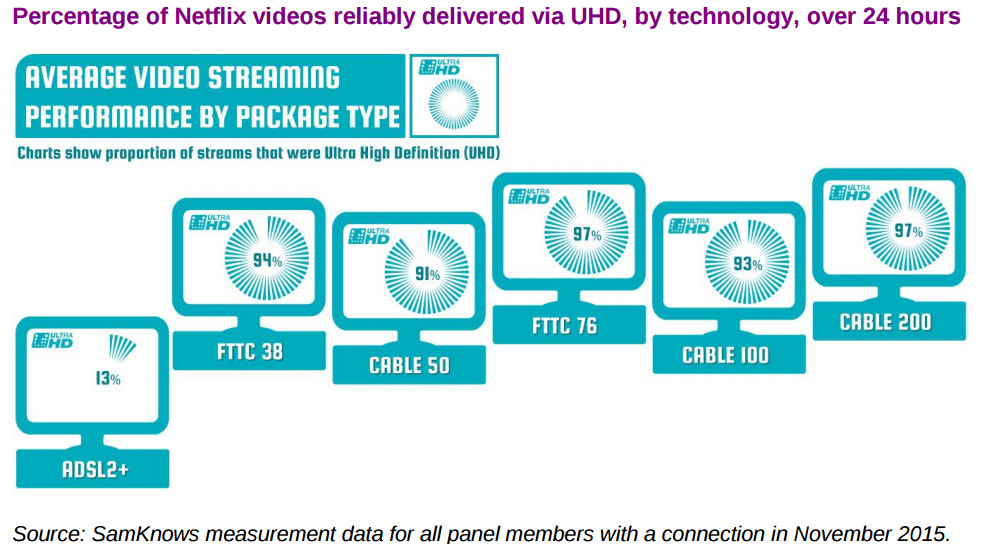 ---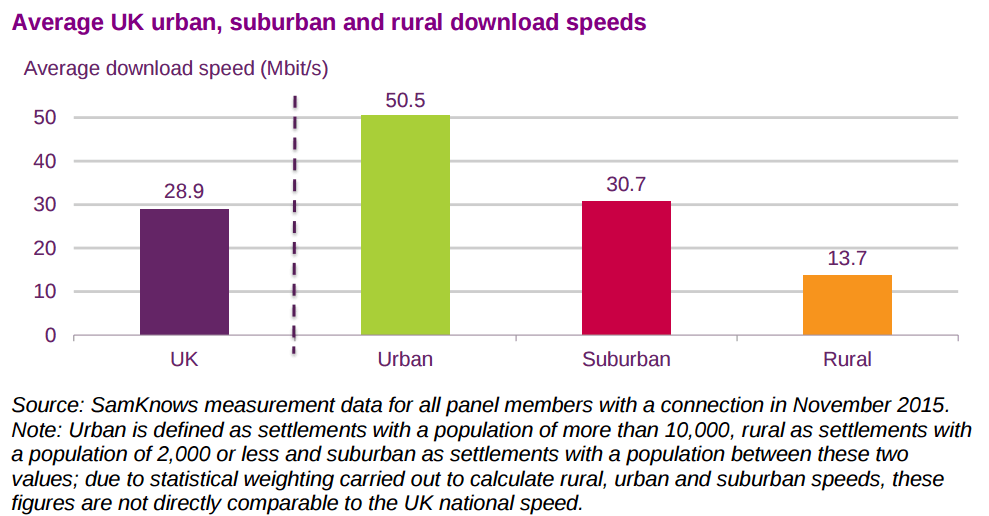 Conclusion
For the Digital India dream to be a grand success, it is important for Indians to have good quality internet access. This necessitates the government, especially a regulator like TRAI to take some concrete steps to understand the ground reality and act accordingly.
Do you think Ofcom like solutions should be adopted in India? Let us know.