Tikona Digital Networks (TDN) is pioneer of wireless broadband in India, they started offering wireless broadband services using unlicensed 5.8MHz & 2.4GHz spectrum for home and business users on Korea-developed WiBro technology platform. Tikona Digital Networks serves the home and enterprise segments under the brand names Tikona Wi-Bro and Tikona Enterprise Solutions respectively.
WiBro adopts TDD for duplexing, OFDMA for multiple access and 8.75/10.00 MHz as a channel bandwidth.
A BWA auction winner Tikona paid Rs1, 058 crore, (8% of pan-India BWA license) for spectrum in Gujarat, Uttar Pradesh (east and west), Rajasthan and Himachal Pradesh. Wining these circles means Tikona can cater around 30% of India's urban population. Tikona has planned to roll out its services in Q1 of 2011 but it is not sure which technology they will adopt – LTE or WiMAX. But it is expected they will follow RIL Infotel's footsteps and will deploy LTE.
The company has deployed strong level of security measures such as WPA2 advanced encryption, 802.1X authentication, MAC level binding and a unique combination of user ID and password, giving complete protection from security risks of Wi-Fi devices. Additionally every Tikona subscribers are offered a complete virus protection.
For serving its enterprise customers better Tikona Digital Networks is building an all IP wireless network using 4th Generation technologies such as OFDM and MIMO in more than 100 towns across India. They are deploying wireless broadband services on the Multiple-Input and Multiple-Output (MIMO) platform using about 110 Mhz of free spectrum. Tikona has Ruckus Wireless as technology partnrt.
Tikona currently offers services in 30 cities including Ahmedabad, Bengaluru, Chennai, Coimbatore, Delhi, Hyderabad, Indore, Kanpur, Kolkata, Lucknow, Mangalore, Mumbai, Mysore, Nagpur, Pune, Surat. They have a robust expansion plans, and gearing up to offer its wireless services to 150 cities of India in next 12 months.
Tikona Digital Networks (TDN) has announced the roll out of its first digital campaign 'Stay SMART Stay Connected'. The 60 days campaign targeting the home segment will be rolled out in two phases. The first phase would focus on creating brand awareness and the second phase will aim at generating leads. The campaign is targeted towards youth and aspirants between the age group of 18 to 45.
Tikona Unlimited plans for Home users:
Bandwidth

256kbps

512 kbps

750 kbps

1Mbps

2Mbps

Monthly Plans

Installation charge

Rs 500

Plan Charge (Rs)

499

599

799

1399

3499

1st Payment (incl. tax) (Rs)

1102

1213

1433

2095

4411

Quarterly Plans (50% discount on installation charge)

Installation charge

Rs 250

Plan Charge (Rs)

1499

1799

2399
1st Payment (incl. tax) (Rs)

1930

2260

2922

Half yearly plan (zero installation charge)

Plan Charge (Rs)

2999

3599

4799

1st Payment (incl. tax) (Rs)

3308

3970

5294

Annual Plans (Pay for 10 months, enjoy 1 yr unlimited internet)

Plan Charge (Rs)

5000

6000

1st Payment (incl. tax) (Rs)

5515

6618
In recent days, Tikona came up with new brand name of Tikona WiBro (Wireless Broadband) and rolled out new tariff plans: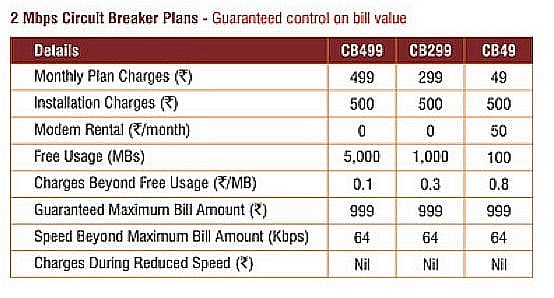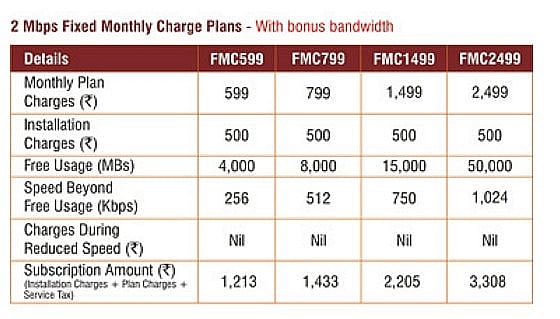 They are offering live demo, just give a call to 1800 20 90044 or sms TIKONA to 575758. For more details visit www.tikona.in