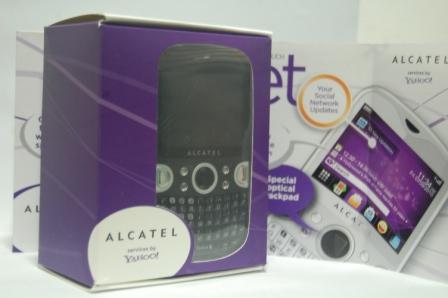 Why splash the cash on an expensive handset when the ALCATEL OneTouch Net Phone on Tata DOCOMO has it all?
This is the question which comes to mind when you get the chance to play around with this uber cool, slick handset. The phone has everything that an average phone user would need.
To start off with it has an excellent 2MP camera. There have been several 2MP cameras in the past which have been a big let downs. However the picture quality on this phone exceeded all expectations and the picture clarity too was decent.
The internet experience is good too and navigation is smooth thanks to the optical trackpad. The OneTouch access feature to Tata DOCOMO's rocking Dive In portal is another highlight as there are plenty of cool applications to check out here.
TheDive In section in itself is good enough to keep the user hooked let alone the other features and applications present in the handset. If you are one of those who need audio and video media in your handset then this handset is again a good alternative as the multimedia experience too gets a big thumbs up. Expandable memory also increases to a whopping 8GB.
The complete list of features and specifications is discussed below:
Specifications :
* Screen: TFT, 65K colors, 320 x 240 pixels, 2.4 inches, Full QWERTY keyboard, Optical trackpad
* Size / Model: 111 x 58.2 x 13.9 mm, 102 g / QWERTY phone
* Memory: Internal 80 MB, external microSD, up to 8GB, 4GB included
* Camera: 2 MP, 1600×1200 pixels
* Battery: Standard battery, Li-Ion 850 mAh
* MP3/WMA/eAAC+ player, MP4/H.263/H.264 player
Standout Features:
* Social networking integration via Social Pulse
* Access to Yahoo Mail and Messenger free for lifetime on Tata DOCOMO
* One touch access to Yahoo Search, News, Homepage
* Special designated Dive In key
* Special designated Y! key
* Stereo FM radio with RDS
* Short key access to My Song, CMT
* One click access to Tata DOCOMO facebook, Orkut and Twitter communities through favourites
Tata DOCOMO has also introduced some exciting offers for its Prepay and Postpay users who opt for the handset. Prepay user's will get a special Y! Offer where they will get access to Yahoo Mail and Messenger free for lifetime along with Free 250 MB/month for a period of 1 year.
Local On-Net calls will be a 1p/6secs after 1st minute at default rate while other local and STD calls will be at 1p/sec. Postpay users can choose between two plans; Rs. 199 and Rs. 299. While the Rs. 199 plan will give the user 300 local & STD mins free, the Rs. 299 pack will give its user a whopping 600 local & STD mins free! The local & STD call rate will also stand at 1p/sec. The postpay users will also get an exclusive Reebok watch worth Rs. 2,499/- when they purchase the handset on a Postpay connection.
You can be one of the lucky few to win this cool handset!
All you need to do is just log on to telecomtalk.info, everyday you will find a unique "CRACK2GRAB" code in this post every day at 10:00 AM.
With this "CRACK2GRAB" code, your name, e-mail address and your telephone number just visit http://onetouchnet.tatadocomo.com/crack2grab/ and there you are.
Now, you are all set to win this cool looking phone but before that after entering all the details you also need to answer three simple answers within 30 seconds of time limit.
Participant correctly answering to all three multiple choice questions within the shortest point in time during a day in the Contest Period will be eligible for the daily prize comprising of one Alcatel One TouchNet Phone. In case of tie then winner of daily prize will be decided on the basis of lucky draw conducted by TTL.
Please note, the contest Period is between,September, 22,2010 to September,29,2010.
Today's CRACK2GRAB code is :074897FB