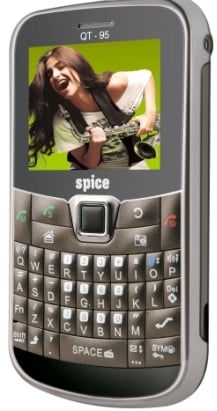 Spice Mobility has come up with new range of qwerty handsets QT-95 & QT-68.Both QT-95 and QT-68 are stylish and empowered with Track Pad to enable a better user experience.
Spice QT-95 and QT-68 are priced at Rs. 5499 & Rs. 4999 respectively.Both the trendy handsets are equipped with 3.2 mega pixel camera, which gives high quality images as well as videos, supported by dual expandable memory for extra storage.
Both the phones have comprehensive set of multimedia features like Video recording, MP3 player, Java support and Stereo Bluetooth.
QT-95 supports of 3G and 2G SIM as active dual modes, enabling to access high-speed data transmission, advanced multimedia access, richer data and voice experience.
It is a premium finished qwerty phone with dual cameras for video callings and capturing spontaneous pictures. QT-68 is a stunner loaded with Wi-Fi, EDGE and others hosts of multimedia and Social Networking features.