We were invited to attend the Vision LTE conclave in New Delhi hosted by Gionee, Uninor and News X. The conclave revolved around the pivotal role played by 4G LTE and the challenges involved in its implementation and mass adoption and the future roadmap and steps to be taken to ensure it's smooth uptake in the Indian market. The chief guest for the event was none other than the honourable Telecom minister Mr. Ravishankar Prasad.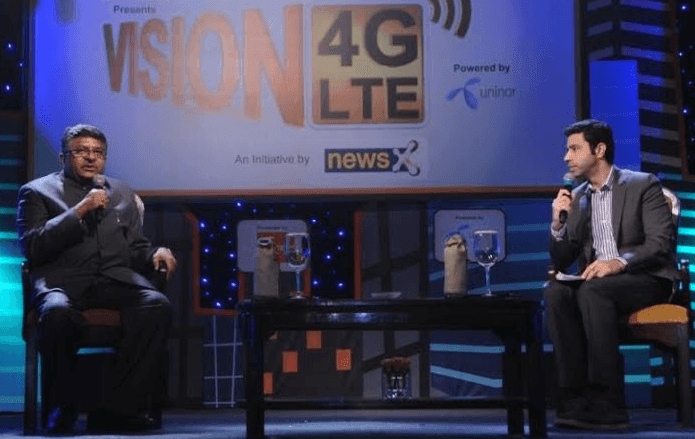 The Telecom minister gave a brief speech outlining the development in the telecom sector stating the growth of telecom user base to an all-time high of 970 million and comparing it to the telly density in South Korea. He mentioned how the Telecom ministry is playing an active role in facilitating the digital India initiative by the NDA government along with the National optical fiber network (NOFN) and giving incentives to the 'make in India' program. He mentioned the innovative offerings like 'Digital locker' facility being offered to safeguard the soft copy of important documents.
CEO's of Uninor and Videocon telecom talk about the challenges faced in implementation of 4G in India. pic.twitter.com/yHyo97mPJS

— Telecom TALK (@TelecomTalk) February 14, 2015
Following the Telecom minister's speech there was a panel discussion about the challenges being faced by the industry in rolling out 4G in India. The CEO's of Uninor and Videocon Telecom voiced their concerns about the lack of adequate device ecosystem for 4G capable smartphones and the low willingness of the consumer to upgrade their devices to enjoy the next generation technology. Mr. Vohra of Gionee compared 4G smartphones to racing cars and compared LTE network to a racing track, he said 'The racing cars are present, but the racing track is yet not available'. The representative of Airtel voiced his concern over the lack of adequate spectrum being auctioned by DOT and the lack of clarity on the guidelines for spectrum trading and sharing. The representative of COAI voiced his concerns on the high base price of spectrum and its impact on the rising level of debt of the telecom operators.
Following this there was a second round of the panel discussion which revolved around the steps to be taken to facilitate the smooth roll-out and uptake of 4G services in India. Mr. Tanveer Mohammed of Uninor spoke about the narrow band LTE technology and the role it will play for operators with limited 1800MHz spectrum in rolling out affordable LTE services. Mr. Vipin Tyagi director of C-DOT mentioned how the existing fibre optic infrastructure is capable of carrying data at speeds up to 100 Gbps and how it can be shared by telecom operators to bring down the capital expenditure in rolling out affordable LTE.
The entire event was covered by us through live tweets on our Twitter page @TelecomTalk.