The Samsung Galaxy Tab is the first major tablet release since the Apple iPad launched last year.Before I begin the review, I want to be completely forthcoming about something: the Samsung Galaxy Tab here's the thing about tab.
What this Uber Cool Gizmo Packs?
This Tablet is loaded With Features!
• A 7 Inch TFT Capacitive Multi Touch Screen
• 1024X600 Resolution Display
• Punched With a Gorilla Glass
• ARM Cortex A8 Processor @ 1GHz
• Android 2.2 (Froyo)
• Bluetooth Version 3.0
• Camera: Rear(3.15MP) & Front(1.3MP)
• Full Flash Support
• Full HD Play Back
• Records Video @30FPS With 720X480
• Phone Memory: 1 GB
• Internal Storage: 16 GB
• External Micros SD/SDHC : Up to 32 GB
Unboxing the King:
This beast is packed in a White Tough Boxing that protects it from all the jerks it receives from all the way from the factory and right into my hands! It's loaded with all the as usual stuff like the Warranty, setup instructions, Usb Cable, in-ear earphones, Samsung Kies Software CD.
Interface that appeases your Eyes:
The gorgeous 1024X600 resolution makes the Menu in fact everything that is being displayed on this tab to be awesome, and browsing on this is something that is meant for this device, check out the telecomtalk Being viewed in the tab
Samsung packed its Touch Wiz Customization on top of the Stock Android, this device features the much required Multi touch, pinch to zoom, you can pinch the home screen to have a look at all the active screens you have got, in the menu screen you can pinch to have a look at all the applications that are present! But a remark comes here; Touch Wiz is not as polished and appealing as the Sense UI Featured on the HTC Devices!
The Android Market + Samsung Apps:
Features lots of applications and games and the punch point of android is its scope of customization that is not allowed on IOS devices but again Android is growing and the apps are not as polished as its Counterpart! Also Samsung provided its newly launched Samsung Apps that deliver content based on location and Device.
Camera:
The Decent 3.15 MP Rear camera with its side kick – LED Flash and auto focus takes macro shots crisp and clear and Portrait and Landscape Shots are pretty Decent, no complaints on this regard!
The Macro shot of Reliance Voucher !

Downside:
The biggest downside I find is that Android does not support Ad hoc , so you cant share your net to your device, but there is a way out for this, if your WLAN supports Access Point Feature then you could use some 3rd party software like Connectify to make an Access point and share the Internet , here I use my Intel PRO Set Wireless tool to Share My Net.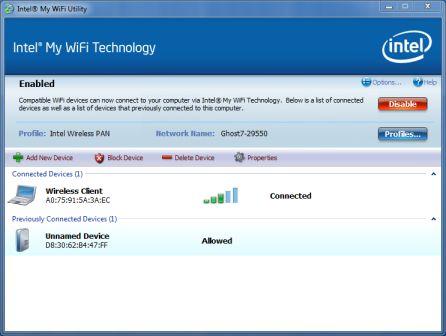 Final Conclusions:
1. It's a superb device with great performance
2. Priced at 24,000 Rs (As On Today) is good value for money
3. Android supports full Customization – so you can tweak your device as you want
4. A Big 7 Inch Display good for hd playback!
5. Not To Forget It's a Huge Mobile Device that you can manage to fit into your pocket