A couple of days ago, there was a rumour claiming that a Samsung C series smartphone was in the works with a dual camera setup at the back which would make it the first phone from Samsung to tout such feature. The report also highlighted that the Galaxy Note 8 would not be the first Samsung phone to have it, which means that the launch of the rumoured Galaxy C smartphone will happen before the launch of Note 8 in August.
And today, a couple of tweets allegedly confirm the name of the purported first Samsung dual camera smartphone. And as expected, it's the Samsung Galaxy C10. The device will carry the model number SM-CM9150 with vertically positioned dual cameras at the rear. This new leak came from the same Twitter account which allegedly leaked the schematic image of the device earlier.
Besides the dual camera, the leak also says that the smartphone will be powered by the mid-range Qualcomm Snapdragon 660 chipset, which will be announced in China on May 9. Alongside the Snapdragon 660, Qualcomm may pull wraps off the Snapdragon 630 and Snapdragon 635 as well.
There's some more exciting news folks. The Galaxy C10 will reportedly have a dedicated key for Bixby button, same as the Galaxy S8 and S8. The earlier leaked schematic image showed that the device would not feature a rear-mounted fingerprint scanner. So the home button of the phone will double as a fingerprint scanner, like all the other Samsung phones. Well, it's a bit weird that Samsung is looking to add an extra button just for a virtual assistant especially when most of the people hated that on the Galaxy S8 phones.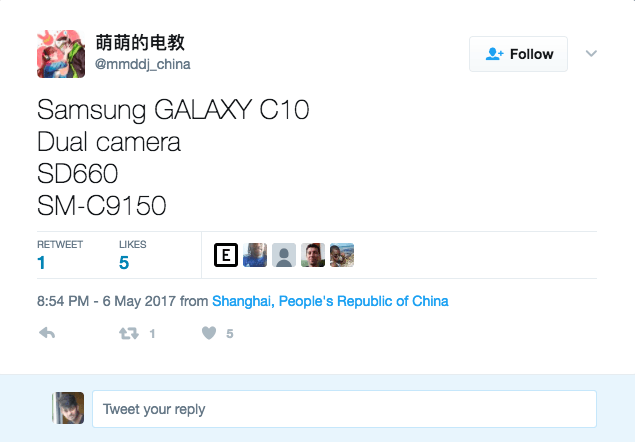 The Galaxy C10 will be one of the first devices to house the Snapdragon 660 chip as other phones such as Oppo R11s, Nokia 7 or Nokia 8 will use the same chip which is scheduled to release in coming weeks.
Until now, there are no details about the specifications of the device. Samsung may have already arrived at the final design for the phone considering that the schematic designs are already popping up online. Expect the Galaxy C10 to show up on benchmark services and certification sites revealing more of the specs.