After five long years, Reliance has launched its much awaited 'Jio' 4G service, but it's limited to the company's employees for now. The commercial launch has been postponed to March-April 2016. A lot of information about this new company was been revealed at the launch event, which took place at Reliance Corporate Park in Navi Mumbai.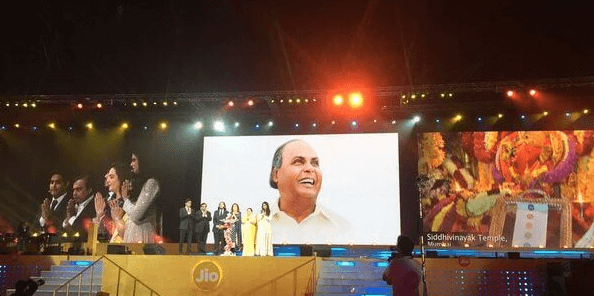 An Introduction To The Reliance Empire
The company's Chairman, Mukesh Ambani, started his speech by explaining how Reliance group of companies has changed the life of people across the globe. From world's second largest manufacture of polyester textile to the producer of 1.5 percent of the world's transportation fuel. The company, which single-handedly pays the largest amount of tax in the country, has expanded itself to retail, life science, media, and telecommunications.
Why Jio?
Mr. Ambani said, "Business should have a larger purpose - to serve society. Life is going digital. In the next 20 years humanity will achieve more than it has in the past 300 million years. 1.3 billion Indians cannot be left behind. This is our motivation for Jio." during the launch event.
Revelation of Dhirubhai Ambani's dream of 'Digital India'
Late Mr. Dhirubhai Ambani apparently dreamt of a digital India; a country where a common man would have access to affordable means of information and communication. Reliance India Mobile was born to fulfil this dream and revolutionised Indian telecom by introducing 49p/min call rates for mobile call, which was cheaper than the cheapest mode of communication, the post card.
After a decade yet another telecom company – Jio – is born from Reliance family to fulfil the same dream of its founder. During his speech, Mukesh Ambani said:
We have the youngest population in the world. Give them the tools. Give them the skills. Give them the environment. They will surprise us. It is this opportunity to transform the lives of our 1.3 billion Indians that motivated Reliance to enter this space. And Jio is the result. Jio will help advance and realize the potential of every Indian and India. I have no doubt that with the launch of Jio, India's rank will go up from around 150 to among the top ten in the next few years for Internet and mobile broadband penetration.
It was truly a family event
The employee-only launch of Jio was witnessed by 35,000 employees and their families, with 80,000 more watching the live stream of the proceedings across over 1,000 centres. Apart from the special guests on stage, the stage was occupied by the members of the Ambani family. Dhirubhai Ambani's wife Kokilaben, son Mukesh Ambani, daughter-in-law Nita Ambani, and grandchildren – Isha, Akash and Anant – took stage at some point.
Anil Ambani with his wife and children were also in the front row attending the launch. We know that not many telecom company owners go for a launch event of their competitor. Given the recent sharing pacts between Reliance Communication and Jio, Anil Ambani's presence shows his support for his brother's telecom venture, which will also benefit his company in many ways.
The next-generation company to be run by next generation of Ambanis
Isha and Akash's names weren't familiar in Indian telecom space till now, but it is soon going to be that way. Jio's day-to-day operations will be managed by the 23-year old twin children of Mukesh Ambani. Video messages from celebrities, including Priyanka Chopra and Amitabh Bachchan, congratulated Isha and Akash for the successful launch.