There's a lot of buzz on the internet regarding the launch of Reliance JioFiber broadband service. Back in April, Jio officially confirmed that they are conducting the trial services in select cities and will be expanding to some of the major cities in coming days. Today, the company officially confirmed that the service is being offered as Preview offer in six cities of the country.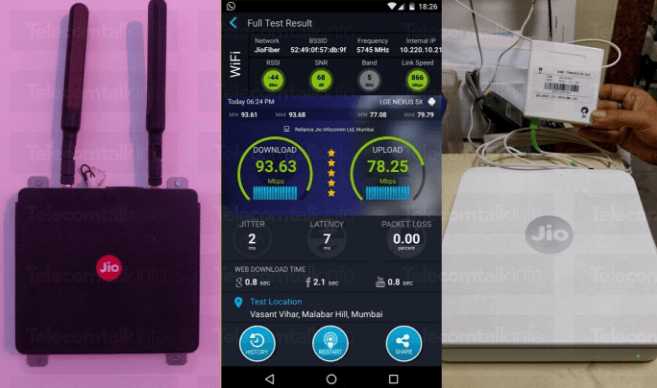 JioCare, the official Twitter handle of the Mukesh Ambani-led Reliance Jio, responding to a user's query, confirmed that they are offering the JioFiber as Preview offer in select areas of Mumbai, Delhi-NCR, Ahmedabad, Jamnagar, Surat, and Vadodara.
There were numerous rumours about the launch of the service recently, but Jio has silent about all the speculations. Under the preview offer, Jio will be offering free services to its employees and their friends for testing purposes. For the uninitiated, Reliance Jio earlier offered its free 4G services as Preview offer itself to the employees of the company. Later on, the offer was expanded to more people ahead of the official launch.
Well, if Jio is providing the service as preview offer, then the official launch of JioFiber may happen in the next few months. Speculations say that it will be launched next month and the new entrant will provide free services as 'Welcome offer' for all the users across the country.
Various users on Twitter said that Jio is setting up the required infrastructure around their areas. Some months ago, a resident of Chennai said that Jio is testing the JioFiber in their area and offered him the service free for three months.
If the said reports are believed to be true, JioFiber will provide speeds of up to 1 Gbps and could be free for first three months for every user. However, every user has to pay an upfront amount of Rs. 4500 as installation charges. That said, Jio will return the amount back after the three month period if the customer is looking to opt out from the service.
All said, the much-anticipated JioFiber launch is around the corner, and may happen in coming weeks. What should be the pricing of JioFiber according to you? Also, let us know whether Jio has offered you any JioFiber Preview offer in the comments space below.