Reliance Jio users have been experiencing network outage since early morning today. Users have already started complaining regarding the issue on Twitter, and despite this, few users are still facing problems with network reception on their phones. Some of them, though, claim that the Reliance Lyf phones do have signal, but they can't see the signal on other 4G handsets.
Some users approached Jio's customer care, only to hear that the service was down due to heavy rainfall yesterday. Residents of New Delhi are raging in Twitter about the issue.
This is not the first time we have seen a network down due to rainfall. Back in 2014, India's leading telecom operator, Airtel's operations was down due to some unknown reasons and the services were back after a few hours.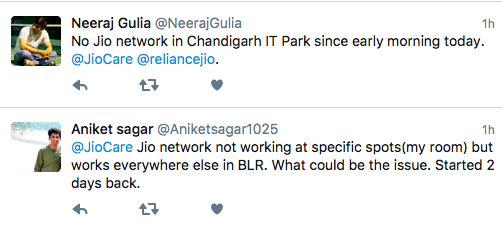 Reliance Jio responded on Twitter by claiming that they are working on the issue and the same shall be resolved soon. They haven't provided any timeline for the fix, though.
Update: We just got to know that the services have been resumed. In case you are still facing issues with the network, contact Jio customer care.