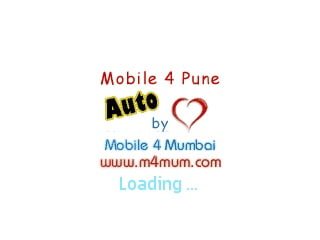 Earlier we at Telecomtalk reported about Mumbai Auto Application from Mumbai based Mobile4Mumbai. Later they came up with Mumbai Taxi & Mumbai Bus which is to make easier road journey for Mumbaikars.
The application does not require SMS/GPRS, works on any Java enabled handsets (j2me compatible) and can offer you search results with 10 key pressing in less than 10 seconds.
Flying on the success of MumbaiAuto and MumbaiTaxi, Mobile 4 Mumbai group now launches their mobile application PuneAuto for calculating Pune City Auto Rickshaw Fares on Mobile.
Some of the features of PuneAuto :
· Latest updated as of July 2010 New Fare Structure!
· No need to send and spend on SMS! · No GPRS (Internet on mobile)
· User friendly Enter minimum keystrokes!
· Intelligent: no need to enter 11.2 (four keystrokes, infact 5 or more on most mobile!!) just write 112 because they know it is tedious to type (dot) on Mobile!
· No need to type dot (or point or full stop). No extra Zero…Just type 8 to get 8.0 · Works on Mobile Phone of Rs. 3000/- also (j2me compatible!)
· No Booklet or Paper/Printout or Auto Fare Card. Go Green!
· Andhere me bhi dikhega on your mobile  🙂
Raxit Sheth founded Mobile4Mumbai believes: India is providing IT/Software products/services to the whole world, But who will build good products which will make life easier for Indian? This is our small step, and we are sure, You will love it and Support it.
For more details and to download PuneAuto please visit http://pune.m4mum.com/auto from your PC or mobile. There are 2 versions of Pune Auto – PuneAuto.jar and PuneAuto.jad, On most Nokia phones JAR file will work and for other handset you may choose any of them.