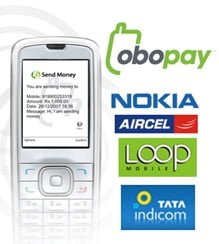 Obopay is a fast, convenient, safe and inexpensive way to transfer money using your personal mobile phone.
Obopay lets you send or get money from a loved one or friend, instantly when they need it most.  Paying your utility bills and recharging your mobile phone are just a few of the exciting possibilities of using Obopay.
As the first mobile payment service created exclusively for the mobile phone, Obopay works on any mobile phone and with any wireless carrier to provide consumers the security and convenience of mobile payments.
Obopay, is an easy way to send and receive money using your cell phone via text messaging, WAP, or a mobile application. You can also opt to connect a prepaid Mastercard to your Obopay account. Obopay works with practically all cell phones.
In India Obopay has tied up with leading telecom companies like AIRCEL, BSNL, Loop Mobile, TATA Indicom and in talks with other operators as well. I fwe talk of banks, currently Obopay has currently tied up with YES Bank and is in talks with other banks as well for tie up.
If there's so much good attached to it, there has to be some bad too and the bad is Obopay requires a small fee when sending or adding cash to your account via a debit card or credit card. There's also a limit on the amount of money you can transfer.
In all Obopay is an easy and convenient way to send and receive money, and the prepaid Mastercard option is a clever method of money management for teens. The service won't replace your wallet, however is a good pocket option.
If you want to Get obopay, then presently all you need to have is a bank account with YES Bank.
For More, you can visit http://www.obopay.co.in/get_obopay.html