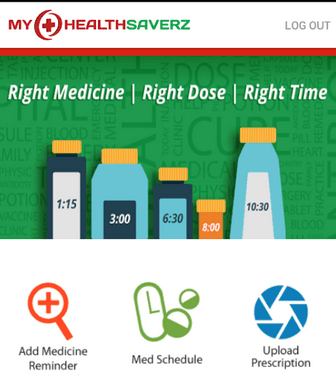 As part of managing one's health, one of the highest frequency health-related tasks is taking one's medicine on time, typically multiple times a day. It is a given fact that most of us take some medication or the other. However, most of us find it difficult to adhere to the schedule of medicines prescribed by our doctors, whether through sheer forgetfulness, pure procrastination or just being extremely busy.
Says Ryan Albuquerque, one of the co-founders, HealthSaverz, "The need for a medicine reminder service was conceived out of a combination of personal experience, feedback from friends and family and customer discussions. As we thought about how to work on improving medicine adherence, we asked ourselves - How can we use technology to make this more effective? One of the answers that came up was mHealth which is the use of mobile technology to improve health services. We felt this was extremely relevant in India given that we have the second largest mobile phone base in the world and are expected to have the world's second largest smart phone base by 2016."
Especially designed for Indian patients, the 'MyHealthSaverz' app provides a solution to tackle this critical issue. The 'MyHealthSaverz' App helps its subscribers by:
· Reminders – Visual and auditory alerts as to what dose and when to take
· Refills - Tracks your medicine consumption and suggests refills
· Med Buddy - Provides free SMS message alerts to caretakers/ family on failure to take a medicine
· Adherence Score – Compiles a score to help you track your Medicine Adherence that can be sent to one's doctor
· Electronic Health Records – Store and index prescriptions and medical records
· India Drug Database - Patients can access Indian brand names of medicines, the ones doctors in India would typically prescribe
The app is available for free on Android and iOS platforms. For non-smart phone users HealthSaverz offers a free SMS-based "Med-reminder service" to extend the benefits of the app to people from all strata of society irrespective of the mobile phone they use.