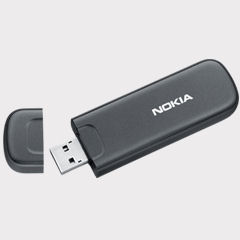 Nokia announced its first ever Long Term Evolution (LTE) capable internet modem, which is based on Nokia's own LTE modem technology development. The Nokia Internet Modem RD-3 is available to be used in LTE technology development together with various network vendors, measurement equipment manufacturers and operators.
Jani Maenpaa, Project Manager, LTE/SAE Interoperability and Trials quoted "Nokia is committed to supporting industry activities aimed at maturing LTE technology to enable the first commercial networks to launch in 2010."
Nokia is a founding member in the LTE/SAE Trial Initiative (LSTI) and carries out interoperability testing with a number of network vendors, collaborates with measurement equipment manufacturers and is ready to support operators with their LTE deployment activities. The Nokia Internet Modem RD-3 is used in all these activities.
The Nokia Internet Modem RD-3 supports interoperability with GSM/EDGE and WCDMA/HSPA to make the most out of the global GSM and WCDMA reach right from the start.
The Nokia Internet Modem RD-3 also supports multiple LTE frequency bands so is able to meet operators' deployment plans across many different countries and regions.
LTE, Long Term Evolution of UTRA/UTRAN (Universal Terrestrial Radio Access Network), is the name for 3GPP-defined radio access for future wide area broadband wireless access networks.  It defines the evolution of WCDMA/HSPA radio networks. LTE will be a major step towards providing rich wireless IP-based real-time multimedia services for the consumer. LTE sets the benchmark for high data rates and low response times, improving the user experience significantly compared to today's mobile broadband technologies. Also, it can offer a true internet experience when the availability of fixed line access is limited.