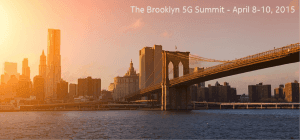 The Finnish technology giant Nokia and the American automated test equipment producer National Instruments (NI) showcased a 5G speed of 10Gbps peak rate over the air at the 73GHz band (millimeter-wave), at the second annual Brooklyn 5G summit held at NYC University Polytechnic School of Engineering. The demonstration was intended to exhibit the smooth performance of any function without any drop in speed or connection, regardless of the number of people using it.
In order to achieve the low latency and high peak rates, Nokia used 2x2 MIMO with single carrier Null Cyclic Prefix modulation and frame size of 100 micro seconds. "Through this effort, Nokia tries to enlarge the potential of the connected world", said Lauri Oksanen, VP, Nokia Networks Research and Technology. "This would be a driving force for massive mobile broadband and totally new applications in the future programmable world," he added.
NI finds this as a wonderful opportunity to collaborate with Nokia. "We are excited to collaborate with companies like Nokia as they define 5G. Our software-defined platform based on LabVIEW and PXI is ideal for researching and prototyping cutting-edge technology such as achieving 10 Gbps data rates in the millimetre-wave spectrum,", said James Truchard, Chief Executive Officer, NI.
Also read: Huawei unveils world's first LTE-M wearable device – 4.5G Smartband
More discussions on the demonstration will be fed around summit's special focus, spectrum assets above 60 GHz, progress in channel modeling at higher frequencies and massive MIMO systems for 5G.