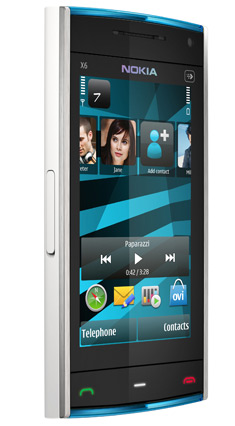 Nokia has announced the launch of its latest phone series tagged as "X-series". Hailing into the new x-series range are  the "Nokia X6" and "Nokia X3", the latest editions to be added to Nokia's touch screen music device portfolio.
Nokia X6 and Nokia X3 come with music, on board storage and access to nokia music store. On top of a great music experience, the Nokia X3 offers a full set of features including a 3.2 megapixel camera where as Nokia X6 comes with 5 mega pixel camera, video recording and editing, email and instant messaging, web-browsing, and navigation with Nokia Maps.
Key Features
Nokia X6
Size: 111 x 51 x 13.8 mm
5 megapixel camera

Customisable home screen
Full web browser (OSS) v7.0 with Macromedia Flash Lite 3.0
Memory:32GB internal memory
Talk time: Up to 8 hours
Data Connectivity: WLAN , Bluetooth 2.0, WCDMA, GPRS/EDGE, HSDPA
Easy email - Video editing and sharing
Nokia X3
Size: 96 x 49.3 x 14.1 mm
3.2 megapixel camera

Active home screen

built-in Flash player and auto-landscape orientation
Up to 46 Mb user memory
Talk time: Up to 7.5 hours
Data Connectivity: GPRS/EGPRS, 3GPP Rel 4, GSM Quadband
Easy email - Video editing and sharing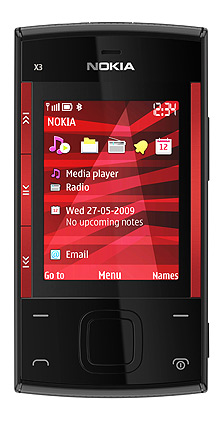 The Nokia X3 is a sleek and stylish slide phone with dedicated music and volume keys to control your sounds.
Nokia X3 is the first S40 device -the classic Nokia interface loved by millions- to offer direct access to Ovi Store.
X3 enables users to discover, download and keep any and every track they want from the millions available in the Nokia Music Store. The Nokia X3 also supports side-loading from PC - and comes pre-loaded with sample audio tracks and music videos from leading artists.