Nokia has announced the launch of its latest addition to the Nokia Eseries range, the Nokia E5 in Indian market at Rs 12699.
The E5-00 designed for those that want to be productive in both their professional and personal lives, the Symbian-based Nokia E5-00 follows the successful blueprint of devices such as the Nokia E72 and Nokia E63.
The Nokia E5-00 combines high quality business features with all of the personal networking and entertainment capabilities that a busy professional expects from a smartphone.
With features such as business & consumer email, chat, social networking, a 5-megapixel camera and long battery life, this phone will appeal to a large section of professionals who want a converged device to address their needs.
It comes with direct access to over 90 percent of the world's corporate email through Mail for Exchange and IBM Lotus Notes Traveler, it's easy to keep in contact from anywhere. With the best performance talk time of 18 hours and 30 minutes talk time (in GSM mode), the Nokia E5-00 enables professionals to stay connected on the move. It also pushes Facebook updates direct to contacts list which allows users to view friend's updates.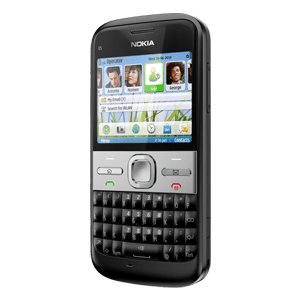 The E5 also comes packed with Nokia Messaging, allowing users to access email on the go with support for multiple email accounts, including popular mail services such as Ovi Mail, Yahoo! Mail, Gmail, Windows Live Hotmail.
The Nokia E5-00 will initially be available in two colours in India – Carbon Black and Chalk White.