With immediate effect we can't experience One Nation Plans and hence a Roam Free Mobile Tariff without any special plans/packs activated as the present roaming tariff model is bringing revenues to operators and they also don't dare to lose it immediately due to incurring costs and call charges.Also if an incoming call becomes free of charge while on national roaming that would adversely impact the health of the national long distance operators (NLDOs). On removal of incoming call charges while on national roaming, Telecom Service Providers would not be able to recover and pass on to NLDOs the carriage charges that cover the latter's costs of carrying the call from home service area to the visited service area. This will have an impact on the long term sustainability of the NLDOs. The impact on revenue was calculated as ranging from Rs. 1800 crores to Rs. 2200 crores under various scenarios. It is worth mentioning here that only about 13% subscribers use national roaming service.
A couple of months back all the operators started providing RTP and Free RTP plans in both prepaid and postpaid segments by charging some amount. Like all operators one of our AVoId Operator's, Idea Cellular also started providing RTP plans in Post pay segments. Let us analyze these two plans now.
Operator: Idea Cellular | Plan Type: RTP | Plan Rental: 199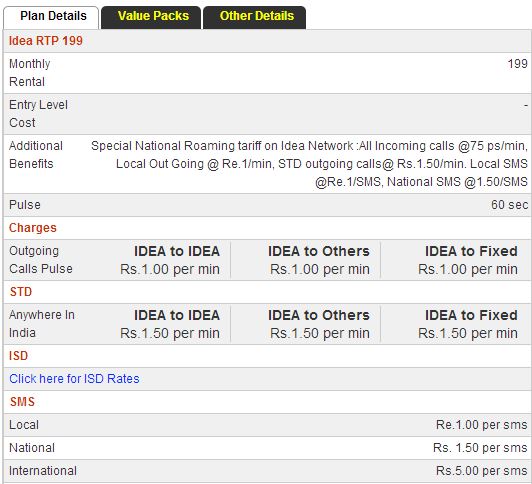 Operator: Idea Cellular | Plan Type: RTP FR | Plan Rental: 399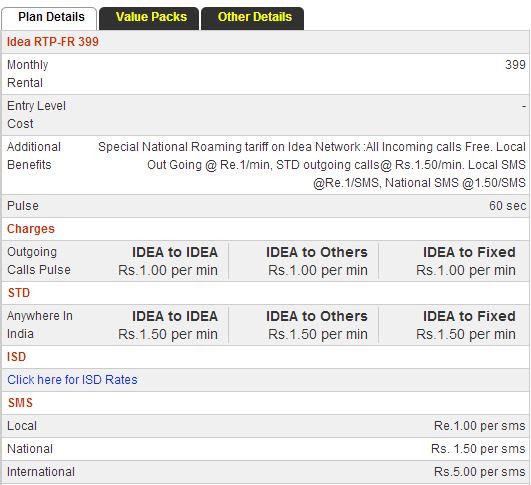 What according to TRAI 55th TARIFF Amendment: "Roaming Tariff Plan" or "RTP" means a tariff plan in which the charges for outgoing voice calls and outgoing SMS, both local as well as long distance (inter-circle), shall not change with the location of the subscriber within the country and hence idea cellular just simply followed the amendment for both the plans.These two plans are strictly in compliance with TRAI rules.
Comparison of both the plans: Comparing the Special Roaming tariff for both 199/month rental and 399/month as priced by idea cellular we are just getting free incoming in 399 plan while all the other tariff remains the same.  Does a customer really need to pay 200 extra for getting incoming totally free? Instead a customer can activate ± 75 Incoming free add on pack to 199 rental plan itself and get roaming free with just 199+75 =274 which is less than 399(just saying).
Pulse: If you have some hope on pulse either you are totally mistaken as the pulse is 60sec both in home and roaming locations which is again a big drawback.
Home Location Benefit: Leave Roaming benefits aside after paying huge rental, even the customers are not getting any benefit in the home location and more over the tariff remains same both in home and roaming scenarios which is very stupid for anyone to take these plans. Instead they can take some other plan which are beneficial to them and add a Roaming free addon to their bill.
Freebies:  If we have a look at the tariff benefits as mentioned by the operator there are no freebies either (at least few incoming/outgoing  minutes/sms on roaming  or reduced call rates on roaming as these are RTP plans which are priced heavily). More over in the RTP 199 rental plan incoming is charged 75p/min which is very stupid that without subscribing to a RTP plan also customers will get the same benefit and tariff as this price is the ceiling price for incoming and outgoing calls fixed by TRAI then why does a customer really need to subscribe to this plan?The same case with 399 plan as well, just incoming made free and nothing else? Are customers fools? Just saying TelecomTalk is always here to point out the flaws.
Are they really getting any benefit from these two plans? Does Idea really wants a customer to get enrolled to these plans or just wanted to show off customers and TRAI that they too have got RTP postpaid plans as per TRAI rule? This is really very stupid of idea cellular to introduce this kind of plans and name them RTP just according to rule with a high price tag by only giving ceiling prices to call/sms rates without any real roaming benefit, what do you say readers?
Dear Idea cellular readers what is that post pay roaming plan are you on? Do let us and other readers know about various plans you are enjoying roaming benefits on Idea Cellular?
For those who don't know what a RTP is "Roaming Tariff Plan".
*As far as I know Idea Cellular regularly updates plans on their website and I hope this information is correct according to the information updated on their site. There may be few circles who are getting some freebies. I have gone through these plans in all circles and came up with this post as the 199 and 399 remain same for almost all circles.
When called their customer care number 1234 the CC executives said they don't have any information about these two plans which is very pity when i can change my plan to these plans in self care portal of idea.