MTS MBlaze is EVDO based high-speed wireless internet service from the house of Sistema Shyam Teleservices.
Currently MTS has installed CDMA2000 1x EVDO Rev A – offering downlink of maximum 3.1Mbps and uplink of maximum 1.8Mbps, similar to BSNL EVDO, Reliance Netconnect Broadband+ and Tata Photon+/Virgin vFlash.
Offering services on 800 Mhz band helps them to cover greater area and as they upgraded their network with '1x Advanced' network is quite good for high speed data services.This is an exclusive MTS MBlaze/MBrowse review based on my personal experience over Kolkata.
Device, Driver & Dialer
MTS MBlaze premium modem comes at Rs 2299, which is made by ZTE (model no. AC2766) It is a plug-n- play slick USB modem, though it automatically install dialer which does not impress me. You can use Windows Dialer that is easy on memory.
There is a slot for 2GB MicroSD – so you can use it as your mobile's MicroSD card reader.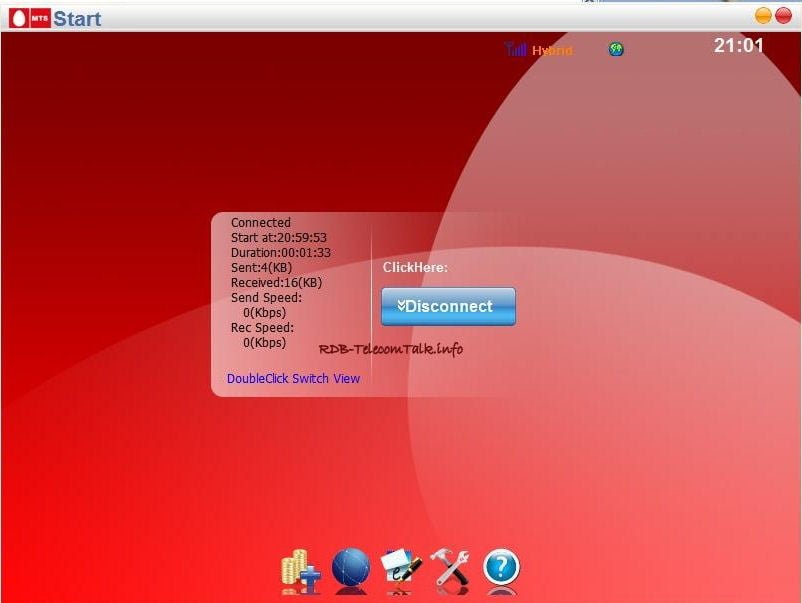 MTS also offers another EVDO modem, ZTE AC2746 at Rs 1999. I find some MTS stores selling it @1900 which includes FRC 999, i.e. pay Rs 1900 and get the device with unlimited internet for 1st 30 days.
If you like to connect to internet (MTS MBlaze) via batch file – helpful for scheduled connection here it goes – make a new text file and copy this thing without '< >'
< rasdial "MBlaze USB Modem" "internet@internet.mtsindia.in" "MTS" "/phone:#777">
Change the extension to .bat from .txt. Now you can connect by double clicking the .bat file.
Services
EVDO Speed is awesome – on torrents 200kBps, direct download via IDM 250kBps. On average most of the time I got over 150kBps download speed. In evening hours speed becomes slower, average speed during this time was 80kbps. I used Reliance Netconnect Broadband+, MTS is a clear winner even at night.
Remember speed varies due to some factors like network congestion, distance from EVDO BTS etc.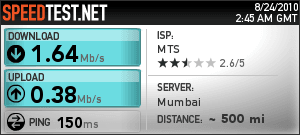 My tests from SpeedTest.net were far away from real experience as I sometimes experienced more than 300kBps download speed during early morning hours.
FUP & 1x connection is established at a maximum speed of 153.6kbps; with IDM download speed is max 22kBps, average speed 10kBps. On torrents speed is too slow avg speed 5-8kBps. Disconnection is another problem on 1X.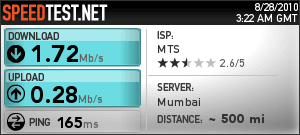 In evening i.e. peak hours 1x is too slow, no page is opening! From personal experience BSNL 1x which comes unlimited at Rs 250 p.m. is better than MTS 1x. So my advice is NEVER to buy MTS MBrowse (1x data cards).
Customer Support
CC executives are novice, no idea how to help! No regional language helpline.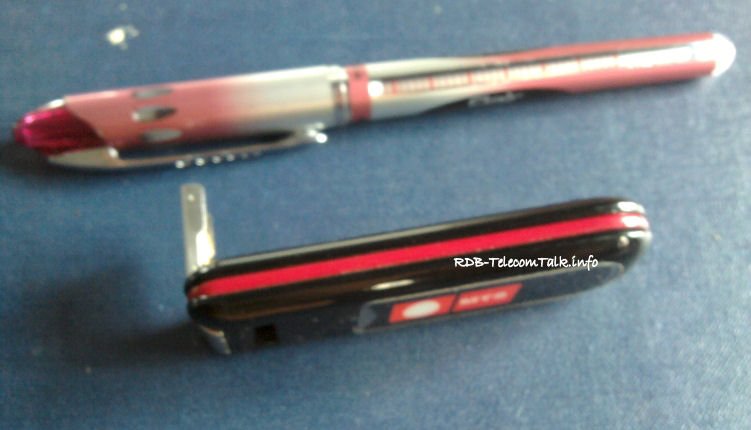 MTS TV (powered by Apalya)
Too slow to start buffering, but when buffering is over, it was somehow ok. But there is no option for full screen. There is no subscription fee, but you have to pay for each MB this application consumes and that's not a good idea with these sick plans!
Free Websites
MTS is offering free browsing on Yahoo India, Wikipedia, MakeMyTrip, Cricinfo, Indiatimes Shopping. Best part is even if you have zero balance; you can surf on these sites, probably on 1x speed. Wikipedia and Yahoo India is stripped down with some blocked scripts- http://in.yahoo.com/ looks terrible with this blocking!www.mtsindia.in is accessable anytime for online recharge, but online recharge was NOT successful for my case.
Recently MTS started notifying by email and SMS to your alternate contact no when you recharge your HSIA account.
Pros – very fast wireless internet within the city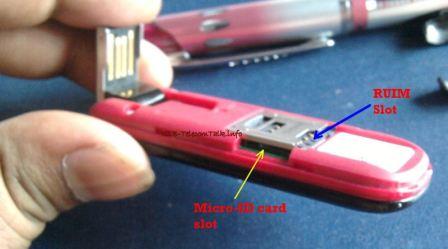 Cons– costly, no true unlimited plan, 1X service is too bad after FUP.
Recommended for those are low to moderate users, do not require all India roaming.
Comments and feedback are appreciated.